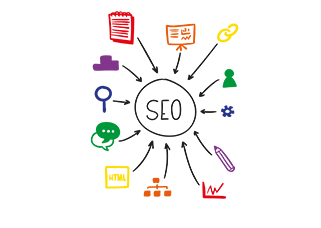 What is SEO ?

SEO is the art of using various tools, techniques, and strategies to optimize your website in such a way that it appears on the top of search engine results whenever a user is searching for keywords related to your business or brand.
It is one of the most effective ways to get highly qualified visitors and leads to your website. And In a world where more than 90% of online experiences start with a search engine, showing up on the first page of Google can be the deciding factor between a business that's thriving and one that's, well, bankrupt.
Consider you have a long holiday coming in and you want to make an international trip for a week. What's the first thing you would do?
Well, you'd certainly ask your colleague or search over the internet. Right? Congratulations, you ain't alone. More than 70% of people begin their purchasing decision from a single search.
Something like this: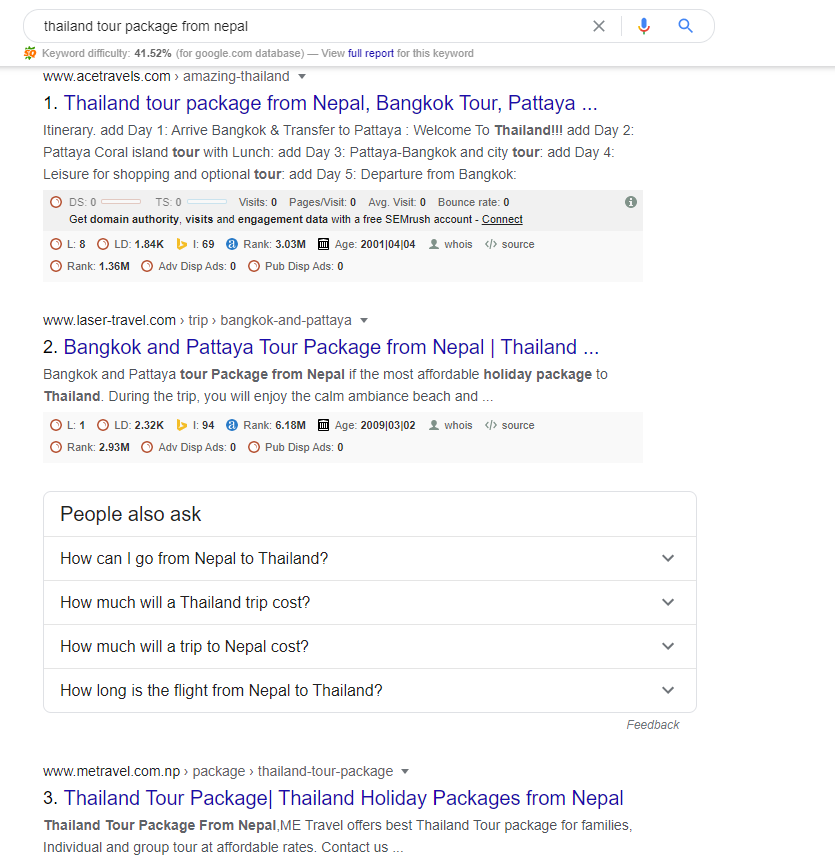 Pic: Search engine result for travel package to thailand

And you know what, 90% of searchers don't prefer to look into the second page or so to find their desired result.
Think about this as a business owner now.
This means that if you are not on the first page of search results against the keywords that match your business or brand, chances are high that you are probably losing most of your qualified leads.
In the above scenario, a searcher looking for travel packages to Thailand lands on a search engine page with websites of various travel & tour agencies. Like a normal Human being, he looks into a few of the top results, scans them, and maybe calls one of them for his next trip.
The keyword one used here to search was "Thailand Tour package from Nepal". You will be surprised to know that Around 390 searches per month are conducted on Google using this keyword in Nepal.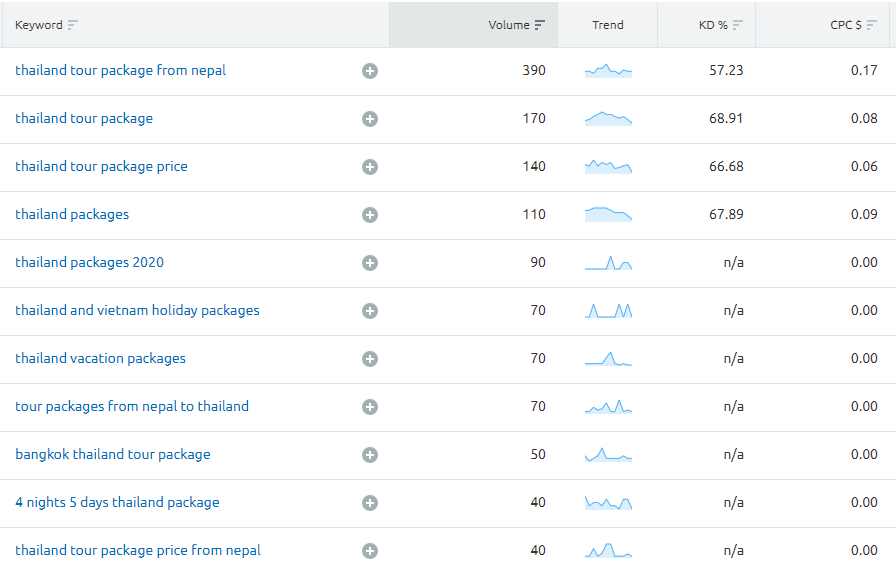 Let's say you managed to attract only 10% of them which results in 39 qualified leads for your business, absolutely for free, that too from a single keyword.
Neither you did any promotion nor anyone suggested your business. You got those 14 leads just because you appeared on the top of searches whenever one searched for that keyword on Google. Now, imagine your website is optimized for tens & hundreds of keywords related to your business. This is just a piece of an example. Your business may be related to any product, service or venture.
For instance, Let's take a look at our ranking for keyword " Hotel SEO".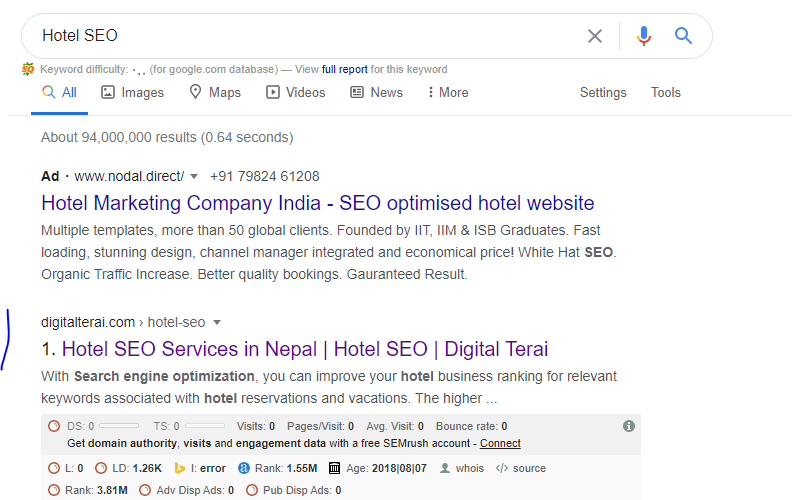 There we are, right on the top. And let me tell you, we get around 5-7 business inquiries every month just because we rank for that particular keyword.
Does that make sense now?
And it ain't any magic. That's where the power of SEO comes in.
In the above scenario, let us conclude a couple of things:
• You don't look for your customers, customers look for you online.
• SEO is an unpaid process. You don't need to pay to search engines, unlike PPC.


Why is SEO important for your website?

SEO generates high-quality traffic that leads to better conversions and more sales for your website or business. To implement a great SEO strategy, all you need to do is invest in content regularly and understand SEO best practices.
When your website is organically ranked high in search engines, the perception seems that your website is authorized in a particular area. By optimizing your content and websites for search engines, you can increase your brand presence. SEO is much more stable than PPC (pay per click) platforms.
Excellent search engine optimization drives traffic forever, while paid or PPC traffic stops when your budget runs out. Always create SEO-based content while creating content for your website. To more precisely target your niche group, create content around relevant keywords.
SEO benefits
Improve the user experience of your website

Increase brand visibility

Build credibility and trust in the brand

Increase the quality of traffic to your website.

Offers you excellent information.

Help you attract local customers.

Helps high ROI and conversions

Kept up to date with the Google search algorithm.

Helps you outperform your fiercest competitors
What is Local SEO
Local search engine optimization is the technique of optimizing your business or website to promote local business locally in specific regions or cities for people in a specific location. You need to invest in local SEO for selling products or services locally. In today's digital world, local SEO is essential to grab local customers' attention and increase the sales of your business. Content, on-page adjustments, and link building with a focused and localized intent are some factors of local search engine optimization.
This can be an effective strategy to rank for your local keywords on Google business & SERP.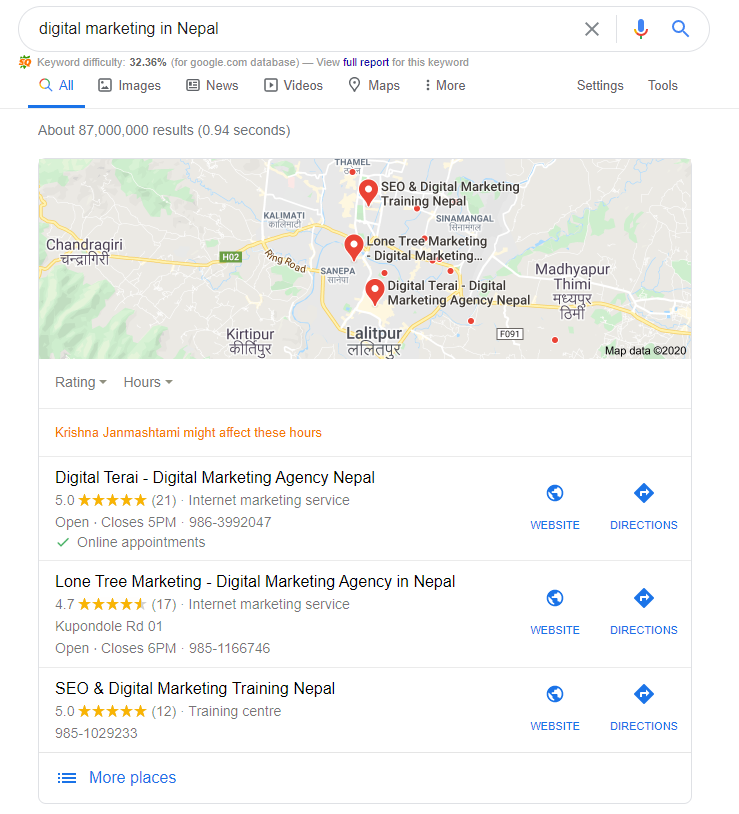 To rank your website locally and drive more traffic, follow these techniques:
Create Google My Business listing and optimize it

Get Backlinks from an authoritative site

Encourage customers for reviews

Use constant information everywhere

Use locally relevant keywords

Add Schema Markup

Build Internal Links



SEO Process



On-page SEO Optimization:

On-page SEO is the process of implementing various optimization techniques and strategies within the website itself. This means adjusting certain elements on your website so that search engines are able to crawl, access and understand the content and structure of your website. The more relevant information and data a search engine can get from your webpage, the greater are your chances of ranking higher in their index.
Identifying, working and fixing potential issues related to On page SEO is the first step that should be considered in order to optimize your website for search engines.
Elements Of On-Page SEO
These are some of the most important elements of On-page SEO:

More than 3.5 billion searches are conducted each day on Google to find numerous things on the web. It is therefore quite important to identify your preferred audience and research keywords accordingly.
Keyword research is simply the process of identifying relevant & profitable keywords for your business. As a business owner, you must be aware of your potential audience and what words they use to find products or services related to your business.
Keyword Research is an essential part of SEO. Keywords are the specific words or phrases that describe the overall theme or concept of an idea, website, business, or product. Choosing the right keywords can help drive traffic to your website, attract leads, and dramatically improve performance. Check out this Keyword research guide for a step by step process.
Once you have conducted solid keyword research, it's now time to place those keywords at relevant places called Meta tags. These are tags that provide data about your web page to search engines and website visitors. In short, they make it easier for search engines to determine what your content is about.
Meta tags can be used in:
• Meta Title
• Meta Description
• Heading tag
• Alt tag
The meta title is the text that you will see at the top of your browser and search engine view it as the title of your page title. Your title must be 40-60 characters long with the presence of keywords.
A Meta description tag is where you would put the site's summary. It does not impact ranking but helps in increasing your click-through rate with a greater chance of a conversion. So it is necessary to fill in the meta description for your site of about 160 characters.
Heading tags are used for the creation of heading and are found on the body. These tags are from H1 to H6. There could be only one H1 tag on each page. H1 is the most important header in Google's eye as it helps Google to know what the content is about. Other tags can be used multiple times representing the different sections of the page. Make sure that you use the short heading including the page focus term.
URL optimization is an important part of SEO. URL is a permanent link to each page of your site. A good URL should be less than 255 characters and short, descriptive including your target keywords. Along with a good URL, we should also optimize the URL structure. URL must be created in such a way that it reflects the category hierarchy. URL structure helps search engines to understand relative importance and is also helpful from an anchor text perspective.
Linking to pages within your website is called Internal linking. The link must be simple and clean so that it is easy to crawl your website. Internal linking to other pages will strengthen the keywords as well as increase the visibility of your older articles that are topically related to the newly published ones. The main benefit of an internal link is that it makes your audience stay longer on your site and the more the engagement to your site, the more Google takes notice and ranks higher. So, it is recommended to put some internal linking on each page of your website.
Optimized content is the pillar of SEO. You can't rank a web page unless it has compelling and optimized content. Just think from a user perspective. Would you visit a website that has contents of no value? Of course not. It is, therefore, an essential part of SEO to craft keyword optimized, value-adding & fresh contents for your user.
Good content is the one that consists of keyword targeted & original content, and is useful and relevant for the audience. Make sure that you're using the relevant keyword throughout your content as it helps search engines to know what your content is about. But do not use the keyword more repetitively, you should use those keywords a few times in the most natural way possible.
Image is needed to capture the attention of the user while the content provides relevant knowledge. When adding an image to the page, use an alt tag to describe the image and it helps search engines to understand what the image is about. The image name must be descriptive and of small size. You can also use the targeted keyword as alt text which is applicable to the image. Using an alt text is important as it will make the audience understand the image even at the time when the image doesn't load.
Technical SEO:
Crawlability and Indexability
All the above strategies are of no use if your website is not accessed & crawled by the search engine. Make sure your website has a good navigation structure, relevant contents and not blocked by search engine bots. Make sure to configure these settings in the Search console by setting up Robots.txt & sitemap file.


Schema helps you provide the accurate information that search engines need to understand your web page contents and provide the best search results possible at this time. Adding Schema markup to your HTML improves the way your page displays in SERPs by enhancing the rich snippets that are displayed beneath the
page title.

There are different types of schema available:

Local Business

Organization

Article

Events

Products

Restaurants

Softwares Applications

Book reviews
This is one of the most important aspects of Technical SEO. More than 60% of total searches are performed from Mobile devices. This clearly means if your website is not optimized for Mobile devices, you are going to lose a large number of traffic.
You can test your website's mobile friendliness from here:
https://search.google.com/test/mobile-friendly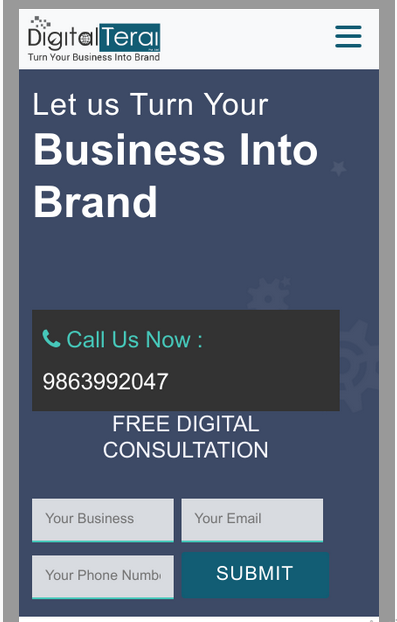 The load speed of your website plays an important role in seo ranking.60% of your
visitors will leave your website if it takes more than 5 seconds to load. It clearly tells
Why load speed is essential. Just 1-3 seconds load time increase the bounce rate
probability by 32%.
Major tools to test your Load speed
Pingdom

GTMetrix

Google page speed insights

In the current competitive market, you should always consider a secure option while building a website. The full form of SSL is "Secure Sockets Layer". SSL keeps an internet connection secured and save any sensitive data that is being sent between two systems. SSL prevents the criminal from reading and modifying any data & information transferred.

Off-page SEO optimization
Local citations & Business Listing
This is a technique of listing your business on different business listing websites. There are lots of business listing sites internationally or nationally. Lots of people might be searching for certain businesses in a specific geography. If you have listed your business on those business listing platforms , you might gain some filtered and direct useful audience on your website.
Guest posting is simply writing an article and publishing it on someone else's blog or website and gaining backlinks on your website. This helps to drive new traffic on your site and get connected with new readers. The more backlinks you gain from high Domain Authority websites, the more your site value will increase helping you to rank well on Search Engines. This is a better way to gain high reach and gain new people to your website.
Social bookmarking is one of the strategies which allows you to bookmark the content and this bookmarked content is not limited to an individual, but it can also be viewed by the users of that bookmarking platform. All those sites that allow you to share your blogs, images, videos, documents, etc. are known as social bookmarking sites. These sites are very important and play a big role in improving your offsite SEO rank and to drive the quality traffic to your site. Some of the examples of these sites are Digg, Reddit, BizSugar, etc
Creation of Shareable Content
The aim of any content is to provide information, knowledge, and answer the questions of the audience. They will have a positive impact on the site if they are totally satisfied with the content and clear their queries. Also, if they find that the content will be useful not only to them, they will share the content in different social media and other platforms creating backlinks of your website. This will indirectly promote your brand through content. Check out these tips to create content that converts .
Forum activity, Q&A and Blog Commenting
Being active in forums, answering questions, and commenting on blogs with quality content will help to build strong backlinks. Being in the part of group discussion actively and answering answers clearly in high authority domain websites will help to build strong offsite SEO. Answering and posting are only not enough, you need to mention your business and brand but it should not seem like you are promoting them. Instead, it should seem like you are helping them and the links you provide are going to help them.
Engagement in Social Media
Another major strategy to boost your offsite SEO is social media Engagement. If you want to make your brand popular and engage people, social media can play a great role. According to your business, you can choose social media and start posting and engage the audience with creative and useful sharable content. Viral marketing is most probable in social media marketing which directly boosts your brand.
Document, Images & Videos submission
There are various websites with specific purposes such as video sharing, document sharing, image sharing, etc. You can use these platforms to promote your business for brand awareness. Popular websites like Youtube, Instagram, Slideshare, etc. carry their own purpose of sharing video, images, documents, respectively and you can utilize these platforms to boost your business.
SEO Tools

There are lots of SEO tools designed for any website optimization goal. They help you in every phase of search engine optimization, from keyword research to analyzing the results of your SEO campaigns.
You can find a wide range of completely free SEO tools on the internet these days. Search engines themselves often provide free tools such as Google Analytics, Google Webmaster Tools, Google Ads Keyword Tool, Google Alerts, Google Trends, DoubleClick Ad Planner, Google Page Speed, Google Site Map, etc. And, you can also explore other tools online: Few important Online SEO tools include:
Semrush
Ahref
MOZ
Majestic
Screaming Frog
Buzzsumo
& more..
Quick SEO Tips:
Start with a Solid Keyword Strategy

Analyze Your Competitors' Backlinks

Use a permalink structure that includes keywords

Remove anything that slows down your website

Use keywords in your images

Link to other websites with relevant content

Update your website frequently

Analyze your existing search traffic

Stay up-to-date with the latest changes in SEO

Update old content consistently

Analyze search query from webmaster and update content accordingly

Audit of competitors and development of strategy

Selection of requests for promotion

Internal site optimization

Creating quality content

External optimization

Build quality links

Work with social networks and social signals

Link to internal pages on your site

Make sure your website is indexed in search engines

Stop changing your domain name
Final thoughts on SEO:
SEO is not just about pleasing Google and getting your keywords ranked; it is a whole lot of process of optimizing your website for better user experience and search engine accessibility. The SEO process begins from the website development service itself.
A good website should be mobile-friendly, dynamic, user-oriented and of course, audience targeted. Armed with a user-friendly and easily navigated website, you are now supposed to optimize various on-page aspects. While a proper on-site setup gives you better exposure on the web, high quality and relevant link building strategy will build trust & credibility and make your website stand out.
These processes might seem overwhelming for some businesses and start-ups, especially if they don't have an in house technical team but trust us SEO can do magic for your business if done correctly.
We understand you are busy in your business and have very little time for all these technical stuff. But still, if you want to grow your business online with the best SEO services in Nepal. Feel free to contact Digital Terai.
What is SEO?
SEO is the art of using various tools, techniques, and strategies to optimize your website in such a way that it appears on the top of search engine results whenever a user is searching for keywords related to your business or brand.
What are types of SEO?
There are more than 200 factors a search engine like Google perceive in order to judge a webpage and there are certain guidelines for optimizing those metrics.Based on the implementation, any SEO technique can be categorized into two parts:
White Hat SEO &

Bhack Hat SEO"
Is SEO important for my business?
SEO is one of the most effective ways to get highly qualified visitors and leads to your website. And In a world where more than 90% of online experiences start with a search engine, showing up on the first page of Google can be the deciding factor between a business that's thriving and one that's, well, bankrupt.
How much does SEO cost?
Well, the cost of an effective SEO depends upon various factors. Some of the important costing factors include: keyword volume, keyword competition, geographical location and target audience.
How many days does it take to rank on Google?
It usually takes 2 months - 4 months to get your website ranked on Google.
Check Your Website's SEO Score
For Free

!
Tell Us About your project