Guest Post For SEO
Guest posting is simply one of the best legal and effective SEO strategies to improve your Google Ranking. To bring more traffic into your business through content, websites are one of the best ways to start building that traffic and growing your business. For that, you need to post consistent blogs on the website and another best way is guest posting with more authorized blogs in the high authority guest-posting site.
So, what is Guest Posting in SEO?
In SEO, Guest posting is simply writing and contributing a blog to another website that publishes the different blogs from a different niche on their site in order to build relationships, exposure, authority, and links.
Links are the ranking factor in Search Engines. Guest posting helps to gain a secure link back from another website. It is the best strategy you can follow, if you want to spread your information through content or blog and want to gain the trust of the audience.
Why Guest Posting?
While you publish your content on a guest post site, then the visitors of that site will see your blog and they can also be the visitors of your own content or blogs. From guest posting, you will have more chances to gain visitors to your site because you can add links of your own site to that guest posting site or get the links back in return from the guest posting site. Start writing the guest post in any popular site's guest posting wall so you can get all those regular interested visitors for your blog. Moreover, it will also make your site traffic & SEO growing at a high speed.
Some other reasons for Guest Posting are:
Improve your writing skill
Get quality and quantitative Traffic
Establish the Domain and Search Engine Authority
Build Your Online Influence
Increase Your Exposure and Branding
Build your profile credibility
In this technique, one has to identify other websites where they can contribute original, high-quality content to a targeted publication as an outside guest author.

This not only increases the domain authority, but it will also provide a blogger with an opportunity to showcase their knowledge and expertise in front of a new audience base. From beginners to expert bloggers, everyone uses guest posting to get backlinks, but still, some of the bloggers ignore it because it is really hard, time taking and challenging.

Here in this article, we will try to cover all those necessary aspects that will help you in your guest posting campaign.


1) Find Out Relevant Sites
The very first step in guest posting is to find out the guest posting opportunities. The more you discover the more you will have the opportunities to get your article published. However, you need to find the websites within the same niche as yours, traffic and following so that your resources and efforts are put to the right use. Finalize the sites based on following measured-
Domain Authority(DA) & Page Authority(PA)
Traffic Amount
Niche
Backlinks
Ranking
So, how to find those opportunities?
You can do this in a manual way like search in google with the relevant keywords.
For example;
- Keyword + ' Guest Author'
- Keyword + ' Guest Post'
- Keyword + ' Guest Posting Opportunities'
- Keyword + ' Write for us'
Remember that the keyword you include to search on the website should be the one that you commonly used for the content for your blog posts.
If you have some blogger friends who belong to the same niche, you can ask them if they are interested in a guest posting on their site.
2. Find out the authorized person for outreach purpose
Now that you have the list of the websites for guest posting, finding out the authorized person for outreach purposes is what you should do next. You can do this in two different ways:

Visit their site, find the contact page. You can find their email address on the contact page or you will find contact form which you can fill to let them know about your interest to do a guest post.

Some of the sites dedicate the separate page for the guest posting which includes all the details and guidelines regarding the guest posting. Some of them are titled as 'Write For Us','Guest Posting' etc. So, visit such pages to find the authorized person.


If you could not find any contact details regarding the authorized person, then you can check their social media pages and message them directly on Facebook or others.
Firstly ask them if they are currently accepting guest posts or not. If they are, send them your guest post pitch via email.
3. Check out the site guidelines for Guest Posting
Most of the time, you will find guest post submission guidelines on the concerned site/blog itself. Most of the bloggers have a separate page that includes all the guidelines for guest posting on their blog.

In case, there's no such page on the site/blog, they might share the guidelines with you through email.


4. Check out the site guidelines for Guest Posting
Once you have read the guidelines, contact the authorized person, wait for their reply. If you receive a positive reply from the concerned blogger, then it's time to start writing your guest post.

Before writing on a certain topic, it is really important to do the research. Even if you are well versed in the topic, do a little research. This would help you in writing the best version of the topic available.

Keep in mind the guidelines provided to you by the blogger: word Count, the writing tone, images/no images, external links and internal links, etc. Then create your post according to the guidelines. For example, if the blogger has asked you to write an 800+ word post, then do so. Don't disappoint them by giving a less word count than the mention for. If possible, include at least one internal link in your guest post.


5. Reach out to the blog owner in a professional manner
Once you have created the article according to the guidelines, try to reach out to the blog owner in a professional manner. Always email the website owner through with a proper proposal for submitting your post on their website.
6. Make a good email template for that purpose
The easiest way to source your guest posting opportunities is to outreach via email. Create a good template for the guest posting purpose. Here are some of the tips for creating the email for the guest post:

Address the blogger using his/her name.
Introduce yourself and your blog in 3-4 lines. Mention that you are interested in writing a guest post for his/her blog.
If you have any topics in mind, try to pitch three topics (Just the headings) for the guest post. If needed, explain each topic in a line or short description. But remember to keep it short and informative.
If you have written guest posts for any other blogs/websites, mention them here and provide the link to the posts. This might increase your chance of getting accepted for guest posts.
End your pitch with a positive statement.
Here's one of the samples for the email.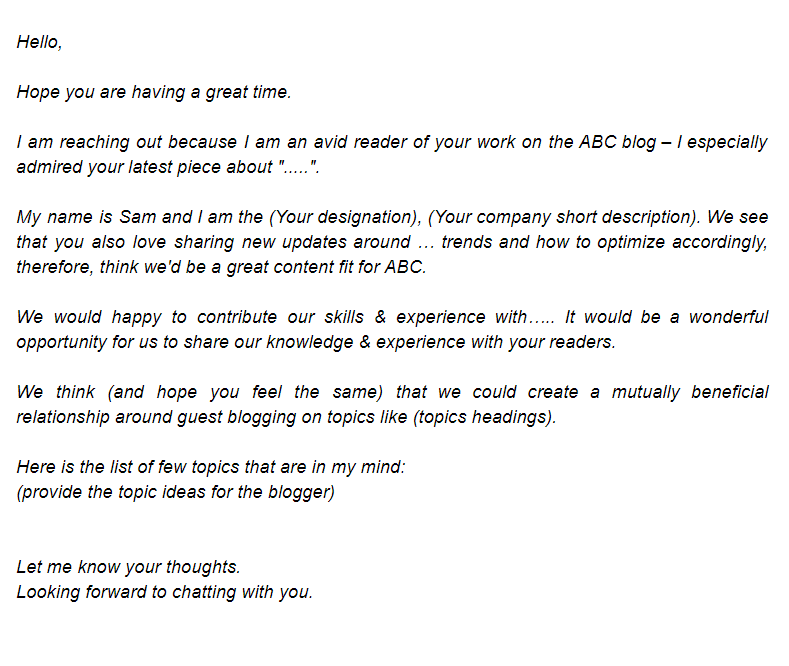 7. Wait for their response
Once you have emailed the respective person for the guest post, wait for their response. In most cases, you might face a delay in responses from the respective website's point-of-contact. But make sure that you follow up regularly until they respond you back and put your post up online.
8. Promote your Guest Post
After your guest post goes live, send a thankyou email to the blogger. This might help you to make great networking. Then, promote your content on social media. The more reach your post gets, the better it is for you. Always check and reply to the comments of the post to maximize your reach.
Final Thoughts
Guest posting helps to gain a secure link back from another website. Links are the ranking factor in Search Engines. Guest Posting is one of the best strategies to increase traffic to your blog and to improve the authority of your site. Use this strategy to take your blog post to the next level.

Let us know your thoughts in the comment section.

Digital Terai is the leading digital marketing agency in Nepal. Do let us know if you need any help regarding SEO Services in Nepal.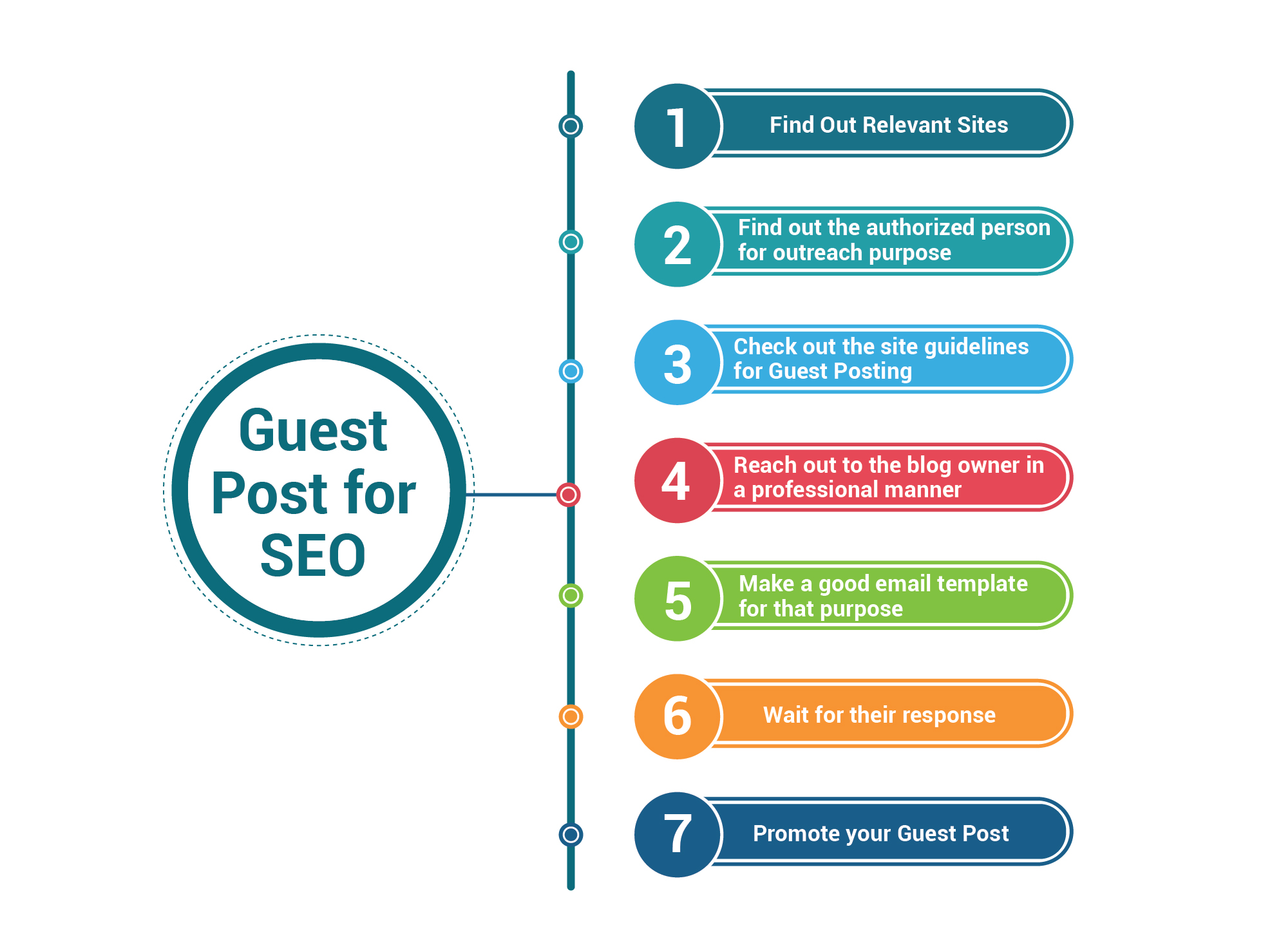 Complete Guide For Guest Posting