Top Business listings directories of Nepal
top business listings directories of nepal
Have you registered your business profile in Directories? If not, you're missing out on opportunities to get found by your potential customers. Having listed on the business directories is the best way to make your business visible towards the people when they search.
According to Hubspot, 50% of consumers who searched for a local business on their mobile, visited the store within a day. Hence business listings are vital for local businesses.
What is a Business Listing Directory?
Business Listing Directory is an online directory where we can create our profile by adding our business's name, address, phone number along with other business detail information. Listing the business in Business Directory increases the online visibility of the business and helps to build good relations with customers. Once you listed in the popular business directory, more people will find you and increases your business lead and customer.
What benefits we can get from it?
Adding our business to the business listing directory help in increasing traffic to the site. As much as we add our business to the business directory having high Domain Authority, it will help in increasing the authority in the eyes of search engines. It will also give a website boost in Search Engine Result Page(SERP). Once you listed your business in the directory then it connects your business with the people searching for it. Also, improve SEO by sending signals to Google about your online presence.

There are lots of business listing directories among them most of the directories provide the free registration/listing of our business in their site. We think that once we create our business profile on their site, our business easily listed in their directory. But it's not true. Some business listing directories have their terms & conditions and sometimes we have to wait for the approval be listed in their directories list.
Guidelines for creating profiles on Business Listing or Directories:
Provide your business details like Business Name, Address, Phone Number as per requirement.
While creating profiles, don't just create it for the sake of gaining backlinks. Always use consistent information regarding your business.
Include additional information about the business like Email, Image, etc if necessary.
Don't spam your listing by providing irrelevant information about the business.
Provide the link of Website, Social Media Channels if it is required.
Here is the list of Free Business Listing Directories of Nepal where you can add your business:

With the domain authority 32, YellowPages Nepal is one of the famous business listing directories in Nepal. By adding your business to it, you can improve your business reach to your niche. The most interesting part is, the listing is free.

NepalYP is also a business directory where you can register your business in two ways- first by paying money and another one is free of cost. It's well managed and you can list your business according to the categories and location. Its Domain Authority is 44.

Reveal Nepal is one of the growing local business directories of Nepal. It was established in 2018 with the two main aims: to bring local businesses together in a single platform and make the search easier, provide the latest trends and information of Nepal through their blogs. Its Domain Authority is 26.

Nepal.JantaReview provides not only the business listing services but also provides business reviews, local marketing, and advertising, deals and offers, event listing, discussion forum, articles, community, and classified information services to local businesses & consumers. Besides Nepal, it is also available in Bhutan, Pakistan, Bangladesh, Sri Lanka, Ghana, Kenya, Nigeria.

Bhetincha is one of the online business listing websites where you can list your business in free and increase your visibility in local areas. It is an effective platform for businesses to shout out loud to their potential buyers that they are there as well as have an easier mode of business search for consumers.

Nepal Atlas is one of the growing business listing directories that provide the best business listing and search services with a focus on quality, quantity and best deals. It also provides fast, free, reliable, and comprehensive information to the users and connects the buyers and sellers. It has a robust presence in all cities and towns of Nepal.

Yelko is a business directory started with the aim of providing comprehensive services to all businesses. This directory offers a wide range of services to all kinds of businesses to promote their business and make it visible to prospective clients.

Express Business Directory is the free local business directory where you can list your business along with your product and services. In this directory, you can promote your business with additional text, photos, and maps.

NepalPhoneBook is one of the growing business listing directories of Nepal. It allows users to search local businesses by category and the place nearby you. It provides not only information about the listed business but also provides information about Events, Tips, Blogs, etc.

Business list is a free business listing directory where a business owner can list their business and user can search for information about products and services. It also provides an instant business review & verification and homepage advertisement upon request.
Final Thought
There are a huge number of business listing directories available on the web. Here, we had listed top business directories of Nepal having a good DA that will help to increase the visibility of the business. Getting listed in free business listing directories should be the first step of your marketing list. Business Listing is part of SEO Services.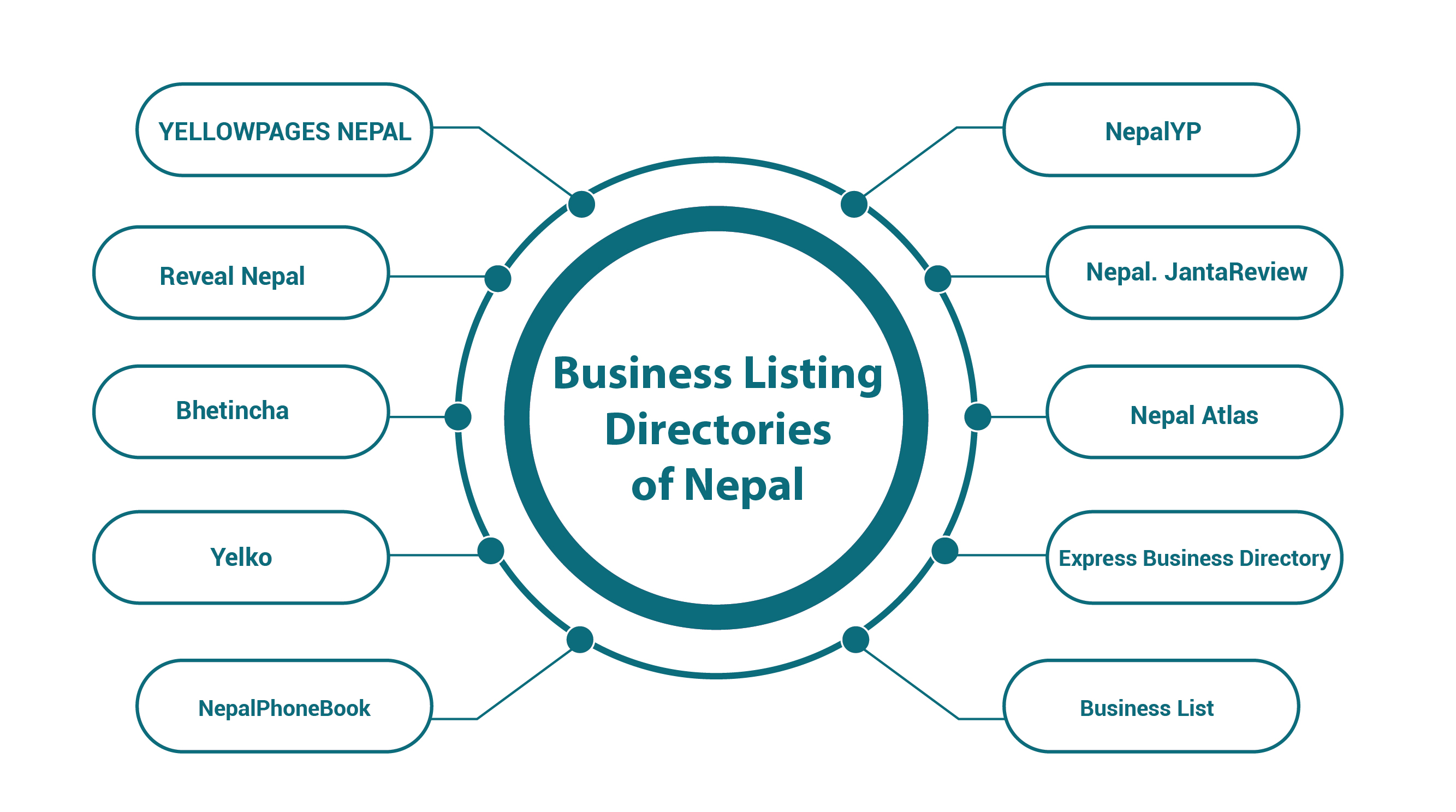 Local Business Directories List
Free Online Business Listing