7 Proven SEO Strategies for Travel Agency
by DigitalTerai | August 25, 2020 | Blog |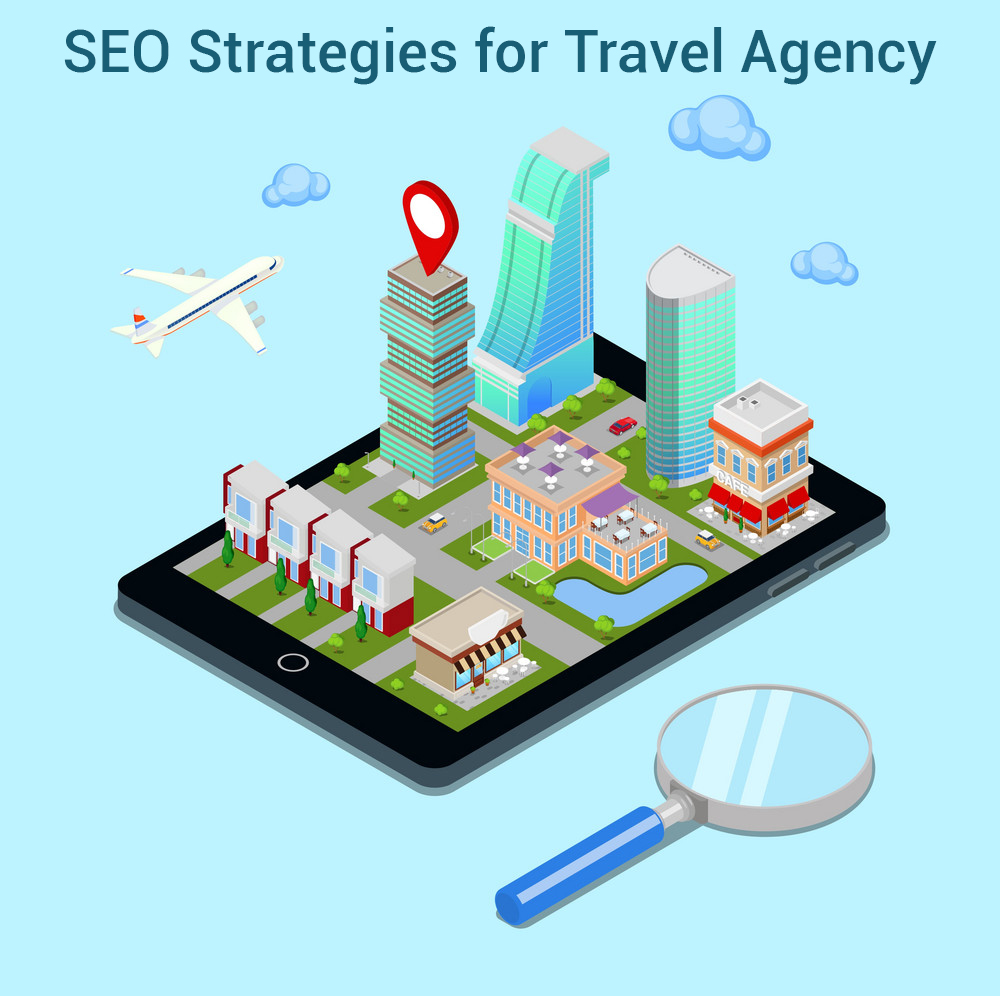 SEO Strategies for Travel Agency
SEO has proved to be the major digital marketing strategy for Travel agencies. With increasing people online, it has become essential for businesses to spread their brand awareness online and improve their online visibility. In past days, people used to walk into a travel agency, browse a catalogue, fix the destination, and the agency would do the rest of the work.
At that time, there was no need for SEO for travel agencies. These days the internet and search engines have stormed ahead, so people sit down at a computer, tablet, or smartphone and find their potential destination to spend their holiday without any effort on research. Nowadays, around 80% of trips are booked online.
SEO helps in ranking the website of your business as well as puts your website in front of the people while searching for the services you provided. So, it makes it easier for travellers and potential audience to find you online. It also helps to create a faster, smoother, and user-friendlier website. Most of the people think that SEO is just about optimizing for the search engines; however, SEO is also about improving user experience.
Well-structured, clean, and visually appealing websites enforce a visitor to stay longer, so it decreases bounce rate and increases page views. Another important thing is that always used relevant content in a website mostly focusing on "Travel plans, Budget" so that readers get an answer to their questions, solve their issues and help them find exactly what kind of trips or travel plans they are looking for on your site.
Having an SEO optimized website helps to stand out from your competition and increase your customer base. Understanding the user journey of a customer and optimizing a site is one of the most important contributing factors to an effective SEO strategy for a travel company.
Some of the major SEO strategies for travel agency are:
Keyword Research is one of the key components of any SEO strategy. When it comes to keyword research for your pages, blog, or articles etc. you have to select the audience intended keywords (the keyword that is used by people to search the services that's related to yours)otherwise you may be in risk to not be found for the right searches, by either targeting generic searches that get a lot of traffic but are very difficult to rank for.
Many people think that when they add more keywords to a page, they are more likely to rank high on their page. But this is not true. Stuffing more keywords can hurt the traffic, so it is best to keep it around 3 relevant keywords per page. Used the targeted keywords that have a high search volume but relatively low competition, as it will be easier to rank them. Focus more on long-tail keywords that people may use to find specific options.
For example, suppose people want to go on vacation in summer. Here are a few keywords they might search:
best place to visit in summer

best place to visit in summer 2021

best country to visit in summer 2021

ABC travel company's reviews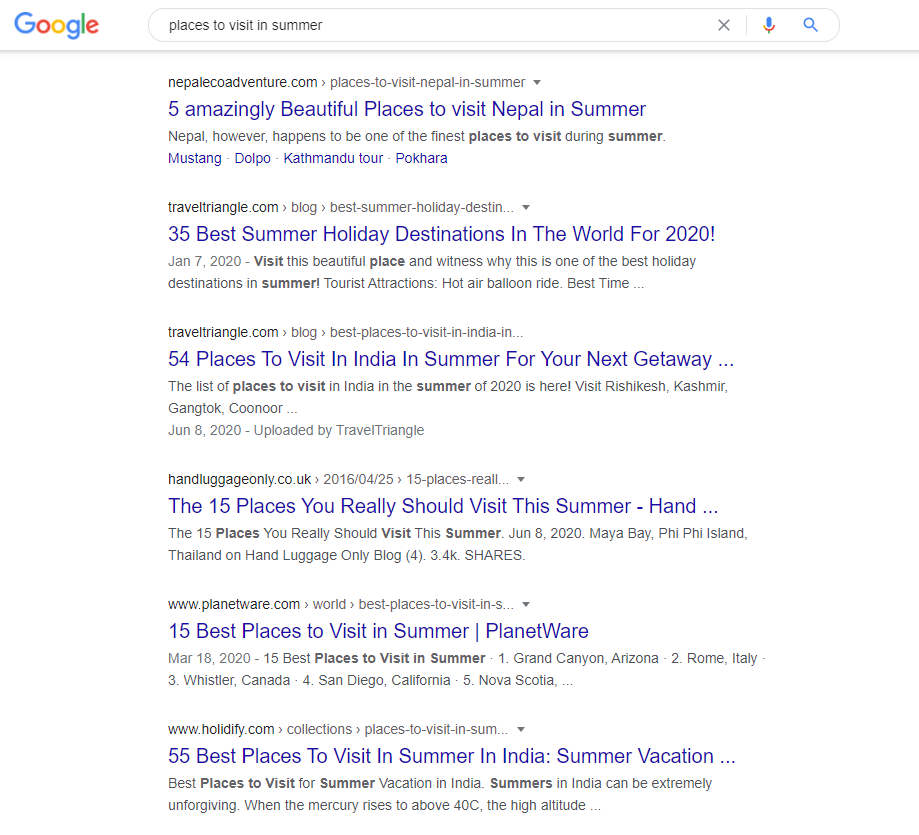 Let's take a look at on more.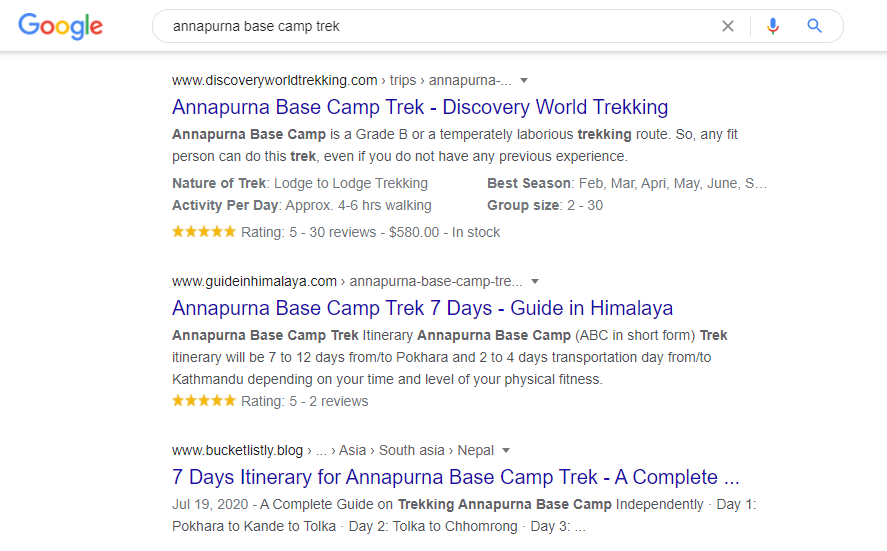 As a travel agency, you would definitely like to rank for those keywords and attract the visitors to your website.
You can use different tools to uncover valuable keywords for your business.
Some of the best Keyword research tools includes:
SEMrush

Ahref

Google Keyword Planner

Keyword.io
Optimize Page Titles & Descriptions
The metadata is the website's title and description, which is surfaced by Google when displayed in search. Page Titles & Descriptions should include targeted keywords. This will help ensure your site is appearing in the correct places, for the right people, so make sure you optimize them.
As the title and description are all users see on the search results, it impacts on your click-through rates. Based on how relevant and catchy the title and description are in terms of what they are looking for, people make a quick decision on whether to click on a link or keep scrolling.
More relevant the title and description you used in the page, the higher will be the click-through rates, which helps in positive ranking signal for Google! You have to use relevant keywords in your Title and Description and try to keep them under 70 & 160 characters respectively.
URL is another aspect that lots of people ignore. Using search engine-friendly URLs with relevant keywords and a consistent structure across the site can help your SEO efforts.
Tips for URL Optimization:
Include targeted keywords in the URL

Upload a favicon (to build trust with search engines and visitors alike)

Don't use capital letters in your URLs

Use hyphens in your URLs (Coz Google does not read underscores)

In the above example, we can see that Travel triangle has included their main keyword "best summer holiday destination" in their URL,
Optimize for Local Searches
Local SEO is the process of optimizing your website based on the location data. To reach local customers, you need to add your address to show up for local listings in Google maps and interact with the local market. Including local SEO in your travel SEO strategies will help your agency to get potential customers driving more traffic through online lead.
If you want your business to appear at the top of the search result then first create an account in Google My Business and provide detail information of your business, list out your travel agency in the local business directory, include city/ state in the title tag of your page, use the same name, address and phone number of your business everywhere: Google maps, your website, local directories, social media pages etc.
Minimize Page Load Time and mobile-friendly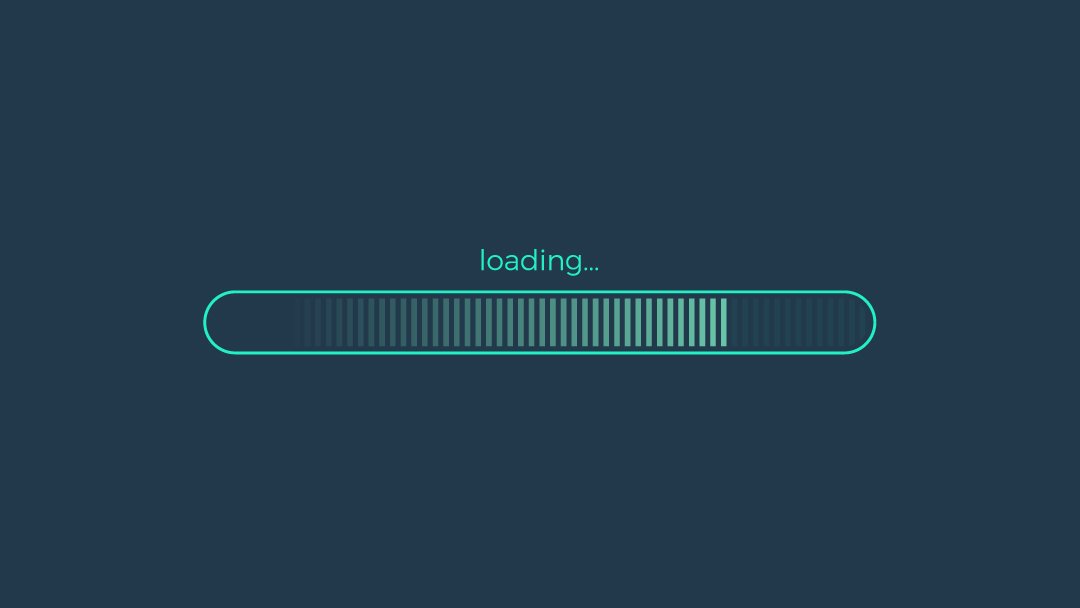 The page load time is significant because it not only affects rankings but also affects bounce rates. If your website takes time to load, then visitors are likely to drop off and go elsewhere as well as get penalized from Google too. The ideal page load time is around 4-5 seconds.
You can check your site's loading speed on SEO audit sites such as SEOptimer, SEMRush and Pingdom. For a travel business, it is very important to have a responsive website as most of the people now browse and book online through their smartphones.
Both business or leisure travellers are looking for mobile-friendly websites to make their decisions easily from online. Hence mobile-friendly optimized websites will allow people to reach out to business through mobile devices. So design your site architecture in such a way that perfectly fits in mobile screens.
Build Links from Trusted and Authoritative Sources
Link building refers to the link that gets from other websites to your site. You may get links from a blog post, resources page, feature you in an interview, share your graphic or video on other sites, or some different ways.
Link building is an integral part of an SEO campaign because high-quality links are essential for rankings. Travel website SEO is also very much dependent on high-quality link building. When you get the powerful links from high authority sites that will help your website ranking on Google quickly.
It will also help to drive referral traffic to your website. More your website link on other authority websites will also establish your site as an authority in your industry. The best way to earn some powerful backlinks for your travel agency is via blogs, articles. The goal is to acquire high-quality links in a high volume.
Travel companies have to create a quality content for their website which can entice a visitor to take action. Copied content decreases the Google ranking of the web page and or may get penalized to your site. Relevant, useful and appealing content should be generated according to your page that would appeal to users, particularly first-time visitors.
The content is analyzed based on various factors, of which keywords form a significant part. The homepage is the most important page so its content must include the nature of your business and services you provide. Also, you can add your top services and striking photos along with brief descriptions with your targeted keywords.
Using engaging and relevant content will lower the chances of bounce rate & increase engagement, both of which are positive ranking signals for search engines.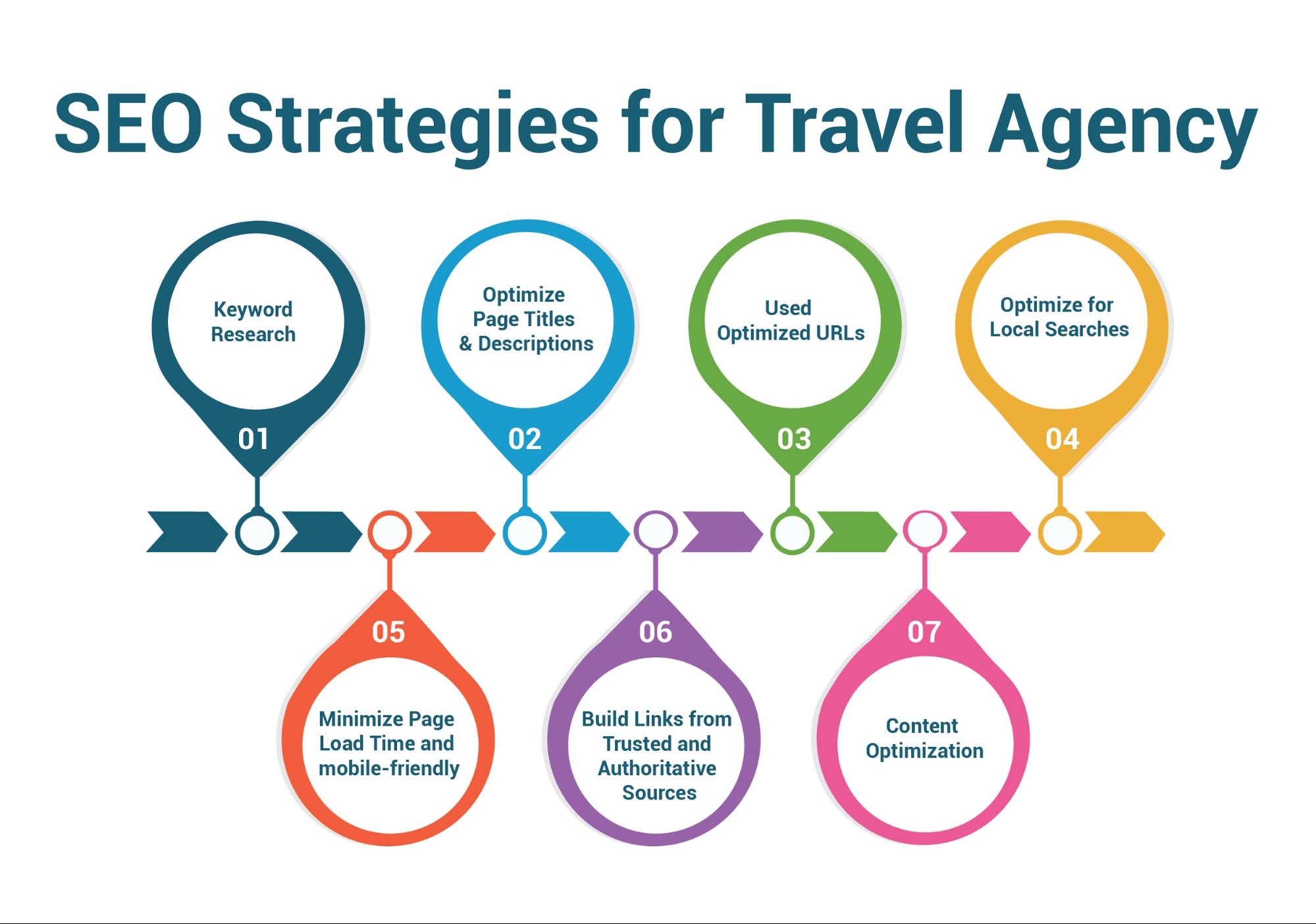 Conclusion
Now, you have understood the SEO strategies for Travel Agency, you can start implementing it on your travel website. The travel industry is increasing day by day, and there is competition to do their best to rank first in the search engine. Implementation of SEO may look complicated, but it's really not, especially when you realize it's highly efficient and which is proven to generate high profits for your agency. So, be serious and use it wisely for the best outcome and fruitful results.