Digital Marketing Strategies for Hotels
digital marketing strategies for hotels
The increasing competition in the hotel industry has increased the challenges for hotel marketers who are striving to enhance their hotel business. Hence, digital marketing for hotels has now become important for those who are aiming for more direct bookings. But digital marketing for hotels is not easy. And most of the business owners don't even know about the hotel's digital marketing strategies.


What are the most effective hotel digital marketing channels?
What are the effective techniques?
How does a hotel can begin hotel digital marketing?
All these questions are what refrain the hotel business owners from the right approach to the hotel digital marketing.
Why Digital Marketing for Hotels?
Every business on the Internet needs online promotion and exposure, so do hotels. Digital Marketing for hotels is equally important because who knows, your customer might constantly be searching for hotels in your area to book and stay. Most people prefer hotel bookings and use the Internet to seek for hotels before traveling to a specific place. So, online branding, marketing, and exposure to any hotel are very much important with being ready to provide your hotel service anytime from wherever the customer be. This is only possible by firstly increasing your exposure, attracting customers, gaining trust and intense online activity which is only likely to happen through Digital Marketing.

In this article, we'll guide you through those essential hotel marketing strategies that you need to acquire for a great online audience and stay ahead of the competition.


Amazing and Reachable Website
To start with digital marketing, the first thing is that you must have a website and make sure that it can capture the user's attention instantly. The website is a platform where people can view all your services. Hence, it should be user-friendly because nobody would want to waste their time in a place that is inconvenient for them to use. And since people are more active on mobile rather than desktops, it is necessary to make your site mobile responsive too. People will love to browse the website, even more, when you make their experience as simple as you make.


Search Engine Optimization
Search Engine Optimization(SEO) is the strategy to increase the visibility and presence of websites organically in Search Engine Results. With the emergence of technology, it has become more important to emphasize the hotel's SEO. When users search for the hotels, they will click on those results which appear on the top of the search result and might book them too. The higher you rank, the more you will get a chance to be found by your potential customers. With Search engine optimization, you can improve your hotel business ranking for relevant keywords associated with hotel reservations and holidays through which you will find more chances to get booking through the website. Hence, SEO is an important strategy for hotel digital marketing.


List your business on Google My Business
Get listed your hotel in Google Business Listing. Google my business is one of the powerful tools which helps businesses to appear on Google Search as well as Google Map and also maintain the online presence of your Hotel Business when a guest searches for hotels like yours. When you list your business in the Google Business Listing, it will make users easy to access your business information about your company like your business details, location, website, reviews from the customers, your business hours, etc.


Social Media Optimization
You may know that nowadays social media plays a great role to boost business online. Having a presence on social media is not a new thing but how you build and utilize is what matters most. Utilizing the social media platforms to its best potential is what you need in your hotel digital marketing. The more you invest in social media, the more you will have a chance to increase your audience reach, brand awareness and drive more people at your hotel. Since most people check the hotel reviews and other details on social media, you as a business owner need to use this to post information and images about your hotel on it.


Maintain online reviews and reputation
These days, online reviews are the key elements because all your potential customers are likely to check those reviews and ratings before they decide their stay with you. Hence, to retain trust among the existing customers and potential customers, online reputation management is necessary. You can handle online reviews by monitoring and respond to all your online reviews on multiple platforms. A well maintained online reputation will help you to get more bookings.


Try these strategies for your hotel digital marketing to get more bookings and get a step ahead in the industry above your competitors. It is sure that if you do not invest in Digital Marketing, your competitors will surely do and they'll be the ones who'll serve all your potential customers. So, don't be late and start creating a Digital Marketing strategy for your hotel.

Let us know your thoughts in the comment section.

Digital Terai is the leading digital marketing agency in Nepal. Do let us know if you need any help regarding Digital Marketing Service in Nepal.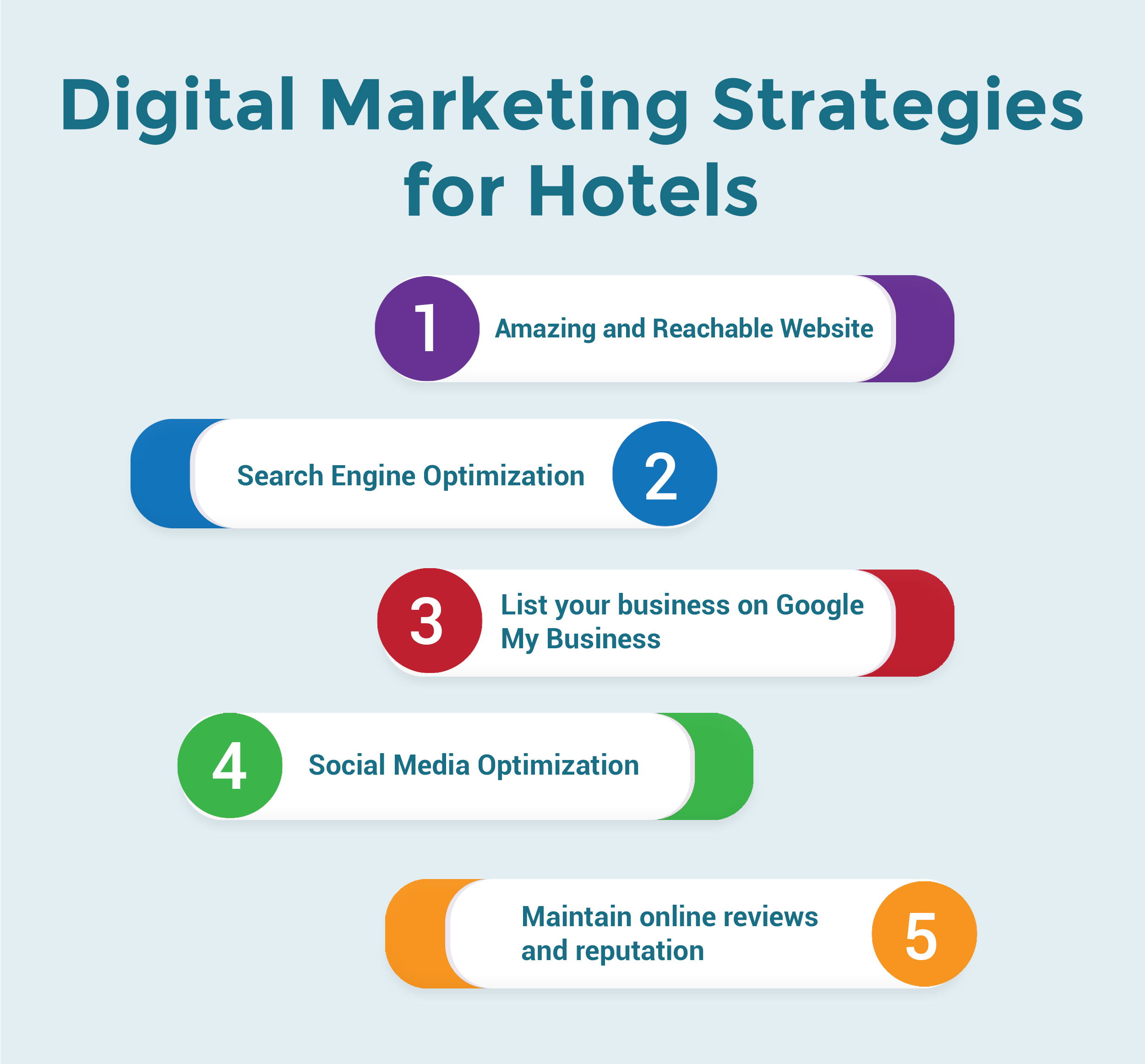 Marketing strategy for the hotel industry