How to earn money on Instagram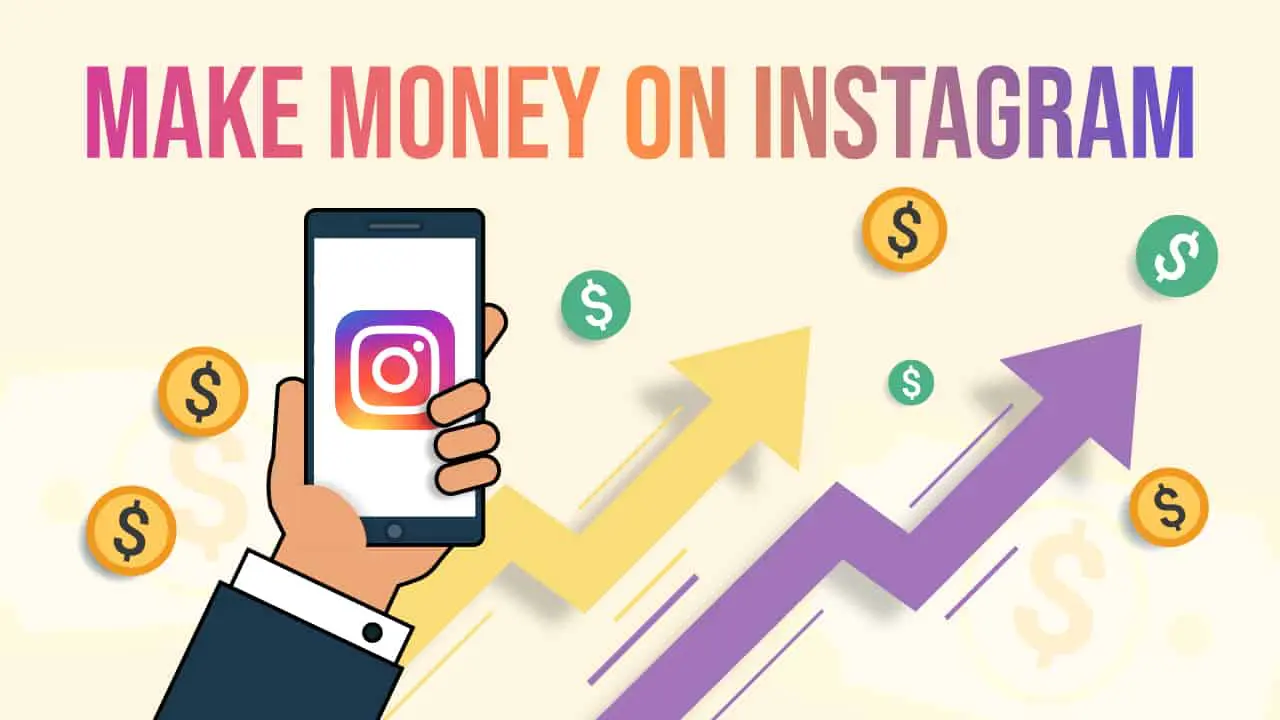 How to earn money on Instagram
by DigitalTerai | Jan 23, 2022 | Digital Marketing Blog
Instagram is without a doubt everybody's favorite social media platform. It's a fantastic method to not only share your life with friends and family while also promoting your business, but it's also a fantastic way to earn a lot of money. Yes, you heard it right, you can actually earn money on Instagram. Instagram has recently surpassed one billion active users as one of the fastest-growing social media sites.
It's grown from a basic photo-sharing app to a strong marketing tool used by influencers and organizations of all sorts to reach their target audiences in recent years.
According to Instagram Business, 60% of consumers use the site to find new products, and 80% of them follow at least one company. Each day, 200 million accounts check out a business profile, with non-followers accounting for 66% of profile visits.
As a result, Instagram, like Google and Facebook, is a platform where you can make money.
However, before you can learn how to make money on Instagram, you must first understand what you'll require for a digital strategy.
I've mentioned a couple of the prerequisites below:
Reach and Influence
The most critical aspects of a business strategy for earning money on Instagram are reach and influence because the only reason companies pay Instagram users is for the visibility they receive from their followers. They want to make money off of the individuals that follow them. In order for their time to be worthwhile, many brands are only interested in influencers with large audiences. They can make more money if there are more people watching.
Your potential audience size is little if you only have a few hundred Instagram followers, to begin with. Your material will not be noticed by many people, let alone generate sales to your or a brand's items, with such a small sample space. So, in order to earn money on Instagram, you'll need at least a few thousand followers to get started with a business approach.
Engaged Followers
Sure, having more followers will increase your self-esteem. It enhances your chances of appearing in more Instagram feeds mathematically. A large number of followers, on the other hand, does not always imply great engagement, and shadow-banning on Instagram can leave you with little to no reach. If no one responds to your posts, they are unlikely to purchase anything you promote.
So, no matter how huge your Instagram following is, if you rarely get people commenting, liking, sharing, and following you, you're not going to make any money. However, even if you only have 1,000 followers who are actively engaged with your posts, you have the opportunity to generate money. Because of the profitable actions, you'll generate through your account, brands are prepared to invest in you.
Okay, so now you know why Instagram is a great platform to make money and what requirements you need to earn money on Instagram. Now let's look at some strategic approaches to accomplishing that.
Here are the 7 fantastic ways to earn money on Instagram:
Collaborate with brands on sponsored content

To begin, let me state that this is by far the most popular method for making money on Instagram. As said earlier, it isn't feasible for those with a few hundred followers. A minimum of 5,000 followers is required with a good engagement rate. It is a very simple strategy. All you have to do is publish images of yourself doing things you enjoy, which will help you develop a spectacular personal brand.

Sure, you can stick to a marketing approach, but your Instagram followers will appreciate it if you stay true to yourself. Relevant brands are more likely to approach you rather than the other way around as you publish photos and grow your profile organically.

Here's a simplified explanation of how producing money works once you've met these requirements:

First, you create a sponsored Instagram post that could be a photo or video
And you include a branded hashtag, mention, or link that promotes a brand
Then, you share it with your audience
Finally, you get paid for your post

You become an influencer when you work with brands and sponsor articles. And you're probably aware that the term "Instagram Influencer" is bandied about a lot these days. Influencers are essentially tastemakers, trendsetters, and trusted experts whose ideas are acknowledged and followed by the majority of their audiences.

Furthermore, many firms are unable to compete with this, so they collaborate with influencers on sponsored posts to help spread the word about their products. Brands care about your audience's trust and engagement with high-quality content, not just your Instagram account's follower numbers and reach.

However, there is one caveat: don't seek sponsored posts just to gain money if you don't believe in the brand you're supporting. If you make too many of these postings, your audience will lose interest and trust in your brand. For example, if you've created a following by going too fast food places and posting greasy food reviews, suddenly collaborating with a weight-loss company could tarnish your image.

Now it's time to figure out how much and how you'll be compensated for your Instagram posts as an influencer.

These influencer arrangements typically entail the creation of content i.e. Instagram advertisements, a post, a video, or a Story, and may include authorization for the business to use the content on their own site or in an ad. The majority of these transactions are negotiated, and they can include a single post or an entire campaign in exchange for a fee, a free product, a service, a gift, the promise of visibility, or a mix of these.

When bargaining, keep in mind that you're not just giving away content; you're also giving away access to your audience, a potentially enormous audience on one of the most prominent social media platforms as well as usage rights.

On average, an influencer with more than 100,000 followers charges up to $500 for each post. To give you an idea of what some brands are willing to pay and how to negotiate based on the cards you have in your hand.

Now, let's take a look at some suggestions for finding brands with which to collaborate.

Chances are, if you're big enough, brands will find you. However, you can look for brands to collaborate with that share your personality and ideals, so your audience doesn't feel like you're "selling out."

You can contact them directly to try to work out a deal, or you can list yourself on one of the various influencer marketplaces available, such as:

Fohr

Through Fohr, you can connect your Instagram, blog, YouTube channel, and other social media accounts to produce an influencer "card" that displays brands, your various profiles, and total reach. You can also access a list of brands and their needs, so you can reach out on your own.

Grapevine Village

You can list yourself in the Grapevine Village marketplace if you have 5,000 or more followers and want to work with like-minded firms.

Crowdtap

To get prizes, do tiny content creation assignments. If you only have a limited audience, this is ideal. Only available in the United States.

indaHash

Brands run advertising campaigns in which you can participate. Get paid by posting a photo on Instagram with the required hashtags. To be eligible, you must have at least 700 engaged followers.

Become an affiliate

In exchange for compensation, an affiliate, unlike an influencer marketing, is more committed to achieving sales for the partner brand rather than just raising awareness.

Being an Instagram affiliate is far more difficult than selling affiliate advertising on your website. Not only do you need a launch audience, but Instagram only allows clickable links in your bio. Promo codes are the only way to promote a deal while still ensuring that you get paid as an affiliate. These are trackable and simple to incorporate into your post or story.

Of course, your followers will have to go to the affiliate website on their own.

Though it may appear to be a numbers game, affiliate marketing is an art, and you'll have a higher chance of succeeding if you plan ahead of time and grow your online presence to include a website and other Social media marketing platforms.

Furthermore, promoting affiliate offers is akin to being compensated for sponsored posts. The difference is that instead of receiving payment for your article, you only get paid if people buy the product or service you're promoting. Depending on your target audience, this can be both positive and detrimental.

While contacting one of the numerous internet shops that offer affiliate programs, you can also look into prominent markets such as:

ClickBank

An open-to-all affiliate platform with a tier-based commission structure.

RewardStyle

An invite-only fashion and lifestyle influencer network with a 20% commission structure.

Amazon Associates

This is a popular choice that pays out a 10% commission.

Earn money from your content

Content is the primary way to earn money on Instagram. There is an expanding number of methods for creators who have created an audience with content that provides entertainment or information value to earn money on Instagram.

However, features such as gated content, subscriptions, and even an NFT marketplace could be added to the app in the near future. For the time being, these are the most common ways to collect Instagram content.

As the month of May came to a close, Instagram announced the launch of two new features aimed at assisting creators on the site. Instagrammers can make money through donations during live streams and by running ads on IGTV using badges and IGTV ads. The news couldn't have come at a better time, with a 70% spike in live stream views from February to March and the uncertain days ahead.

IGTV ads

One option to monetize your social media post is with IGTV advertising.

Instagram launched IGTV ads for creators in the United States, the United Kingdom, and Australia in March 2021, giving them yet another way to generate money on the platform. When consumers go to watch IGTV from a creator's feed, these ads show. The video is mobile-friendly and can be seen for up to 15 seconds.

According to Instagram's COO, Justin Osofsky, creators receive 55 percent of IGTV's advertising revenue. That's the same as YouTube, therefore it's a wonderful substitute.

Live Badges

Live badges are a newer feature that allows creators and influencers to monetize their Instagram accounts. Consider Instagram Live badges as tips you can receive during a live broadcast, a popular notion borrowed from Twitch and TikTok.

During a broadcast, your viewers can buy a badge from one of three tiers of hearts, each with a different price point (one for $0.99, two for $1.99, or three for $4.99), which appears in the comments and unlocks benefits like a spot on the creators' badge list and access to a unique heart.

Become a brand ambassador by starting your own e-commerce business

You might believe that the only ways to make money on Instagram are through brand collaborations, affiliate marketing, and content. No, you can truly start your own e-commerce business and work as a brand ambassador on Instagram to make money.

Content creators of all types are in a good position to "sell out" with their own products: physical goods, services, or digital items that can be an extension of their brand, allowing them to build a business with an audience at its core because their abundance of content allows them to have those moments of plugging their products.

You'll have to put in some work upfront, but in today's society, it's practically natural for creators to go into business for themselves. With the expanding number of Instagram tools for growing a following, this is becoming easier.

Also, you won't have to worry about incorporating messaging from other brands into your posting strategy if you offer your own products. Even better, you can promote your own brand on the items you sell. This technique also eliminates the need to figure out how to get paid on Instagram. Fans can demonstrate their appreciation and support for your work by making a purchase from you that they can feel good about.

Even a better way to earn money on Instagram is by selling your own merchandise.

Here are the few ways of achieving that:

You may print and mail your own t-shirts, pillows, coffee mugs, wall art, and other items with a print-on-demand service.

You can use your bio to promote services like photography or consultancy by directing visitors to a contact email or a link to your professional website.

Courses, ebooks, and design templates are examples of digital products that can be sold.

You can start a business selling your own creative products or even a book using your Instagram account.

Make Instagram masks and filters

Over 500 million individuals use Instagram Stories on a regular basis. People are more engaged with this form of material because it is only available for a limited time, and it provides marketers with more opportunities to hook their target demographic.

Furthermore, businesses develop Instagram Stories masks and filters to demonstrate their expertise in a specific field and market their products. While some organizations have in-house designers that build filters for their brands, others prefer to work with Instagram masks and filters specialists.

If you enjoy being creative, you can make money on Instagram by using the Spark AR Studio, which allows anyone to design AR filters for Instagram Stories. Let's take the example of Brend Cardenas who uses Instagram to promote the Instagram filters she creates./p>

With the rise of Instagram Stories, it's clear that ephemeral content is the way of the future for social media. Making Instagram masks and filters is a terrific way to show off your creativity while also making money.

Look for freelance clients / Write captions for business

Instagram isn't just for sharing lovely puppy pictures. Instagram has become a fantastic medium for networking, especially for people in creative fields, since we passed the 1 billion active user mark. Professionals are increasingly using this site as an online portfolio.

You can use Instagram to attract clients through different web designs no matter what you do for a job, whether you're a filmmaker, ghostwriter, or public speaker. Instagram isn't just about posting photographs of cute puppies. Since we hit the 1 billion active user milestone, Instagram has evolved into a terrific networking tool, particularly for people in creative fields. This site is increasingly being used by professionals as an online portfolio.

Whether you're a filmmaker, ghostwriter, or public speaker, you can utilize Instagram to attract clients no matter what you do for a living.