Years in Business - New Update on Google My Business Results
Years in Business - New Update on Google My Business Results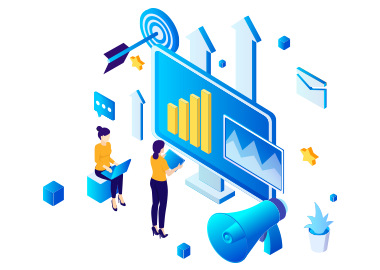 Years in Business - New Update on Google My Business Results
by DigitalTerai | July 20, 2020 | Blog |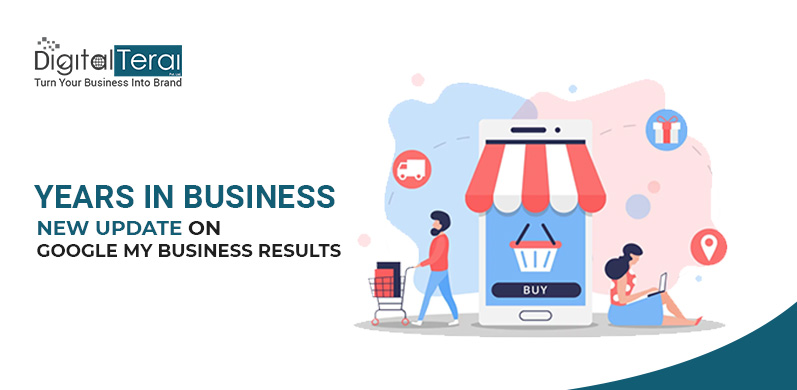 Google never ceases to amaze us with the improvements they make to Google My Business. If you own or operate a local business, Google My Business is a really useful tool. You can truly rock your local sales with the correct combination of activities and simple adjustments on Google My Business.
Google My Business is a service provided by Google to assist businesses and organizations in managing their internet presence. It helps people locate your business, facilitates contact between company and consumer, and allows businesses to check, amend, and update their information, which benefits both customers and businesses.
Customers pay attention to these listings and look to them for important information about a business, therefore it's critical for businesses, especially local firms, to work on their Google My Business listings.
Google has made a subtle change that allows business owners to show the "Years in Business" option to display how many years they are up and running. And another update shows your business's busiest hours, or "rush hour," while the second report depicts what your company is renowned for.
This change has been reported for a long time, but isn't it always better to be late than never? But why does this change matter? Was it really necessary?
To understand this I would like to add a bit of background of Google my business.
Let's start with the basics, shall we?
What is Google my business?
Google My Business is a free service that allows business owners to manage their online presence across Google's Search, Mobile Search, Local Search, and Google Maps.
It enables you to establish, verify, and modify a Google business listing without having to make any further changes to your website or employ a search engine optimization plan.
Google My Business was created to make it easier for searchers to get the information they want quickly and easily.
Your business's address, hours of operation, and contact information will display in your Google My Business listing without the requirement for a visitor to visit your website.
What's the importance of Local SEO in your business?
Take your phone out of your pocket, open Google, and type in "best MoMo restaurant."
What do you think you see?
The top results aren't always the greatest MoMo in Nepal, and they're unlikely to be part of a large chain.
It's usually a locally owned restaurant in your city that's near to where you're at the moment. That's how effective local SEO can be.
There are several advantages to employing local SEO to grow your organization. One of the first is that it converts at a greater rate. This is because the results are far more targeted and relevant to your local consumer base. If your result appears, it means that someone in your area is looking for the service you offer.
According to Search Engine Watch , 80 percent of local searches result in a conversion, therefore the most essential thing you can do is help them discover you — through local SEO.
According to Google, 86 percent of consumers use the internet to locate a local company, and 46 percent of all online searches are for a local business, so if you aren't doing this, you're missing out on a lot of traffic.
Do you still want to miss out on this?
People are increasingly turning away from huge corporations in favor of smaller firms. If people are seeking your industry in these times, you want to show that you are a local business worth supporting and that you can be discovered quickly when they search on Google.
And now Finally let's get into the point.
Why does this change matter now?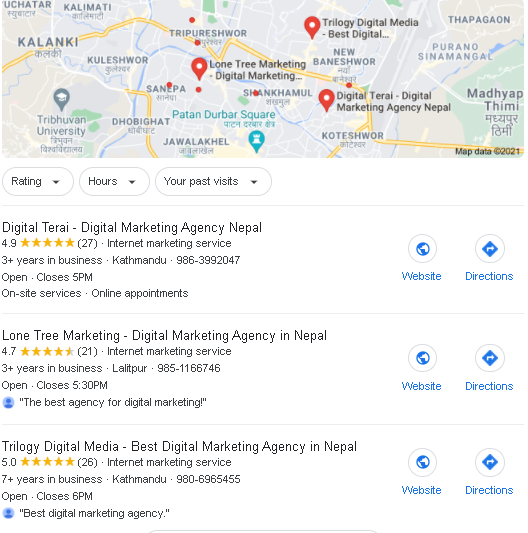 Here we can see Digital Terai has been running the business for 3+ years.
The logic is simple: long-established companies are more appealing to users. While we may assume that companies with a high review count and star rating have been around for a long time, this new GMB feature directly displays that information.
High ratings can be persuasive, but Google appears to be encouraging people to make judgments based on a one-two punch of high ratings and the established history and your consumers will be able to avoid peak hours.
As a new business owner, this may appear to be an intimidating update if you're new in the game, competing with already established ventures while you're trying to find a ground.
This is, in fact, a positive thing. Consumers are leaning towards supporting new locally owned businesses rather than large corporate chains.
Why should you target Review?
Responding to reviews shows existing and potential consumers that you appreciate their input. Businesses who respond to reviews are 1.7 times more trusted than those that don't, according to a Google and Ipsos Connect poll.
Positive interactions increase customer loyalty. Always answer in your brand language and maintain a respectful and professional demeanor. This is true for both positive and negative evaluations.
Don't dismiss them. Turn things around by hearing and responding to the problems that have been expressed. Always be truthful, and when it's appropriate, apologize.
If the situation is delicate, request that they send you a private message. Also, make sure to respond to inquiries. A consumer inquiry placed on your Google My Business profile can be answered by anybody.
Make every effort to be the first to answer. Show people that your company is active and trustworthy, and you'll avoid the propagation of false information.
Want to find out the real magic of reviews on Google? Read our " Why Google Reviews are important for SEO " and simply be amazed.
Quick Tips to optimize your google my business
Optimizing your Google My Business profile is very easy, and the short amount of effort you put in it may return fantastic benefits. Continue reading for a few short tips on how to optimize your Google My Business listing for the best results.
Set up your Google My Business
If you haven't already, create a Google Business Listing Set up (or claim) your Google My Business listing as the initial step. Click "Start Now" in the upper left corner of Google's My Business page.
Then fill in every relevant field provided by Google. You'll want to double-check that the profile is as full as possible and that all of the information is correct.
Use high-quality images
Photos make your listing pop and offer potential buyers a taste of what to anticipate. Make sure you utilize high-quality photos that showcase your items and make your company appear nice (if you sell physical products).
Consistent Information
Consistency in how a listing is listed across various websites is one factor Google's algorithm looks at to validate its validity.
Choose a uniform method to write your address, a standard phone number, and double-check that all of your listings match each other and the information on your website. Also, make an effort to list your website in as many relevant directories as feasible.
Use local number
It's vital to utilize a phone number with a local area code in addition to keeping your phone number constant throughout all of your listings. That's an additional indication to Google that you're in fact local. https://digitalterai.com/blog/google-my-business-optimization-step-by-step-guide
Make sure the phone number you provide for your Google My Business listing is visible on your home page or on any landing pages you link to from your Google listing.
Encourage your customers to write reviews
Request that your satisfied consumers take a few minutes to provide you a Google review. On promotional items, you hand out or display in your store, including a word of encouragement.
A little nudge or a reminder of how much it means to your business can increase the likelihood that your regular customers will take the time to say something nice about you.
How to add business years on your business profile?
You can add the business years by providing the open date in your Google My Business profile. Follow these steps to add business years:
Login into your Google My Business account
Click on the Location
Select info option from menu
Click on "add opening date"
Encourage your customers to write reviews
For complete Step by Step Google my business optimization, checkout our Google My Business Optimization Guideline .

Wrapping up:
Claiming your Google My Business page is the simplest first step in increasing your online presence, which can make or break your business.
Keeping pace with daily changes to search engine algorithms and listings as a small business may be difficult. Investing resources in your continuously changing online presence, whether you try to keep on top of the changes yourself or engage a business to execute your SEO plan, is critical in today's more digital and ever-changing world.
About us: Digital Terai is the leading digital marketing agency in Nepal . Do let us now if you need any help regarding SEO and Social media marketing services.