Social Media Marketing For Business
by DigitalTerai | October 13, 2020 | Blog |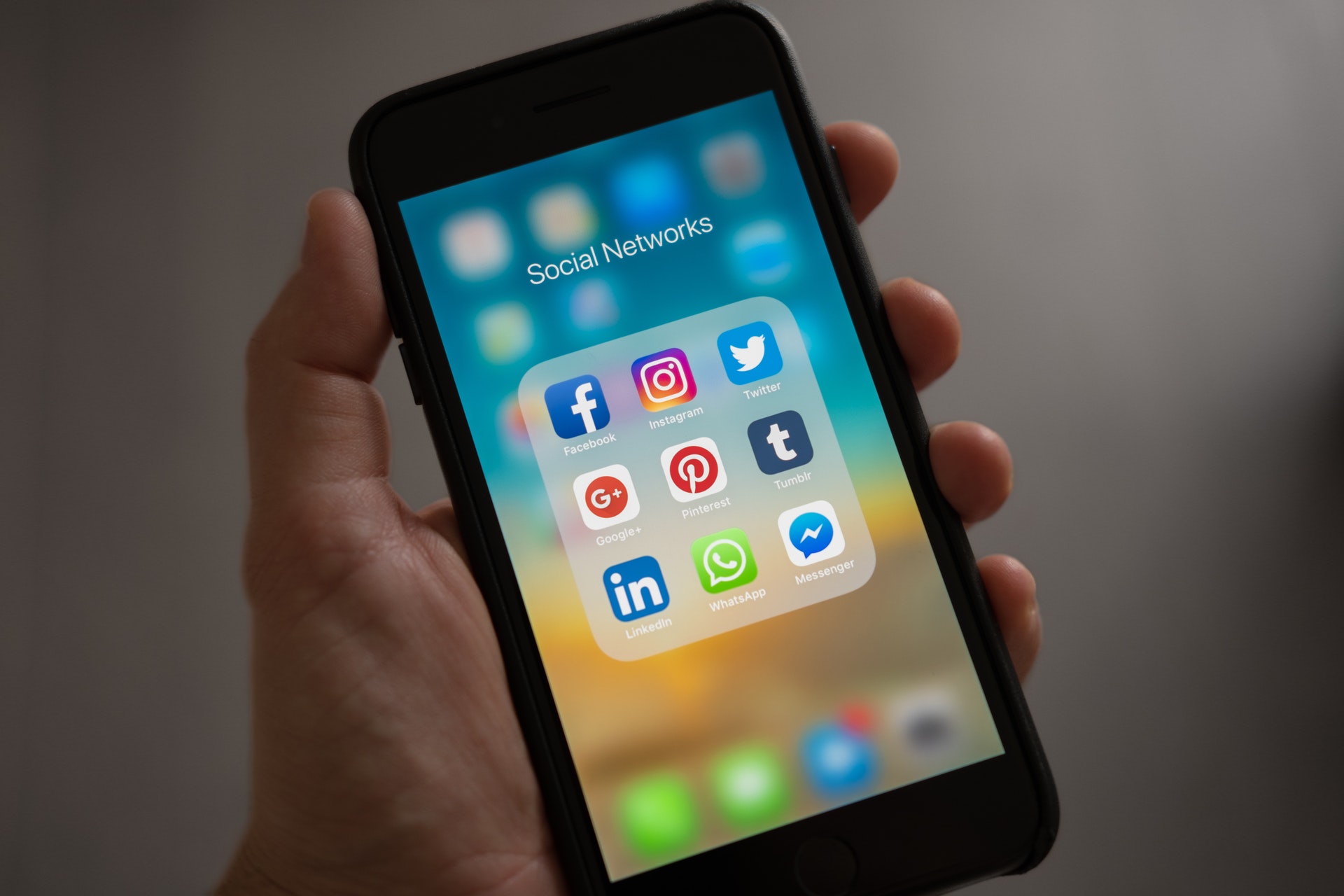 Src: https://www.pexels.com/photo/apple-applications-apps-cell-phone-607812/
You don't need to be a PHD scholar to tell how important social media marketing is for businesses these days. As one of the fastest-growing trends in the world right now, it's no surprise that social media has changed the way we communicate. People now spend more of their time on social media than any other platform, and they have already become social media addicts.
According to Statista , as of 2019 online users across the world spend 144 minutes per day on social media. From scrolling the Instagram feeds to posting about the day to day activities, a business conference on Facebook, social media has become an inseparable part of our lives.
Now the people are spending their most of the time browsing the social media platforms, who's the one that's utilizing this opportunity?
Of course, its businesses!
The increasing growth of social media has also increased the demand for social media marketing. Today, almost every business is aware of the capabilities of these dynamic social media platforms and has acknowledged it. 92% of marketers believe that social media is extremely crucial for the success of their business.
To establish a successful business online is a challenge in itself. And not mobilizing the benefits of social media marketing can really put your business on the backseat.
But you need to understand how these social media work to generate revenue with it. And to start with your social media marketing, you need to know which channels will work great for your business.
To choose platforms for your social media strategy, there are few factors to consider.
Audience & competitors
When it comes to choosing social media channels, you really need to know –
Who is your target audience and where are they hanging out?

Who are your competitors?
For any business, the primary goal of implementing social media marketing is to build brand awareness and increase leads. And it's not possible on those social media channels which don't have your target audience.
Hence, it is essential to research every possible channel. This will help you know which has your target audience and which don't. It's also equally important to research your competitors and see on which channels they are promoting their services.
Business type, and resource
To excel in social media channels, you need to have the right resources. Your business type and resources can really influence your channel selection.
For example, if you run a B2B business, you might want to focus on LinkedIn more than other platforms. On the other hand, if you are a B2C business, you can really connect with your audience with Instagram & Facebook marketing .
Your Business Goal
What is your goal for social media marketing? Is it to create awareness or drive more traffic to your site or increase revenue? Every business has different goals. Depending on your goal, your channel selection differs. Social media channels such as Instagram and Snapchat are great for increasing awareness for B2B business. However, channels like Facebook & Instagram work very smoothly for e-commerce businesses looking to sell their products.
Benefits of Social Media Marketing for Businesses
For any business, developing a loyal customer base is one of the main goals. And social media presence makes it easier. It helps your customers to find you and connect with you. It is one of the stress-free and beneficial marketing platforms that increases your business visibility. Determine the social media channels that are the best fit for your business. Create social media profiles for your business and start networking with your potential customers.
Not every business can afford large campaigns, but with social media marketing it's possible to get a lot of value with the amount that you can afford. Regardless of your business size, and budget, social media marketing helps you reach your potential audience, and grow them. Also, creating and signing up for an account is free for almost all social media platforms. Hence, for some businesses, it may be enough. The quality of the content you create helps to promote your business. However, if you want to get more than paying for promotion will help you increase your business exposure.
For example, you can promote your business for any amount of budget on Facebook. This helps your business to direct your ad towards only those users who are interested in what you are advertising.
One of the different advantages of social media is that it additionally helps in the increment of your site traffic. Sharing your content on social media, means you are motivating your clients to navigate to your site. The greater the quality of content you share, the more opportunities you have to engage new leads and direct them back to your website. Syndicating your content on different social media platforms thus helps in increasing the organic traffic.
Social media presence is now a vital factor that determines a site's ranking. SEO and social media marketing work together to create value and provide relevance for your customers. Since your business's social media page works as a gateway to your website, any content you post on your social media profile can help you in getting new customers. You can use different blogs, infographics, business information, etc to make your business profile more intriguing in social media. When your business starts to build a social media community, you can connect with industry influencers. These influencers can write about your business and offer links back, thus helping in search engine rankings.
Customer Engagement & Satisfaction
Since most of your customers are spending their time on social media platforms, marketing on these platforms is a good way to engage and interact with them. Communicating and engaging with customers helps in conveying the brand message of your business. The more you communicate with customers, the more will be the chances of conversion. You can connect with your customers in different ways.
For example, you can host a Q&A session through Facebook live to generate an idea about your customers' preferences.
Interacting with customers on social media profiles also helps to show your compassion for your customers. Acknowledging your customers through comments or any other way ensures better customer experiences, which results in better customer satisfaction.
Customers are now smart, before making any decision, they do a quick research of your business on your website and social media.
Hence, it's important for you to set up your business profile and update it frequently with relevant content. This will build the brand's authority and makes a positive first impression that your business is trustworthy and authentic to those customers.
Final Thoughts::
It's impossible for any business to thrive without a social media presence. A right social media strategy leads to better brand awareness, increased traffic, customer engagement and satisfaction, and many more. Without social media marketing, your business is missing out on the bigger picture and what's still to come! So, start earlier, create a profile, utilize them, and see the growth in your business.
Let us know if you need any help with your social media marketing strategy. We are one of the leading digital marketing agency in Nepal .