TikTok Marketing
by DigitalTerai | July 23, 2020 | Blog |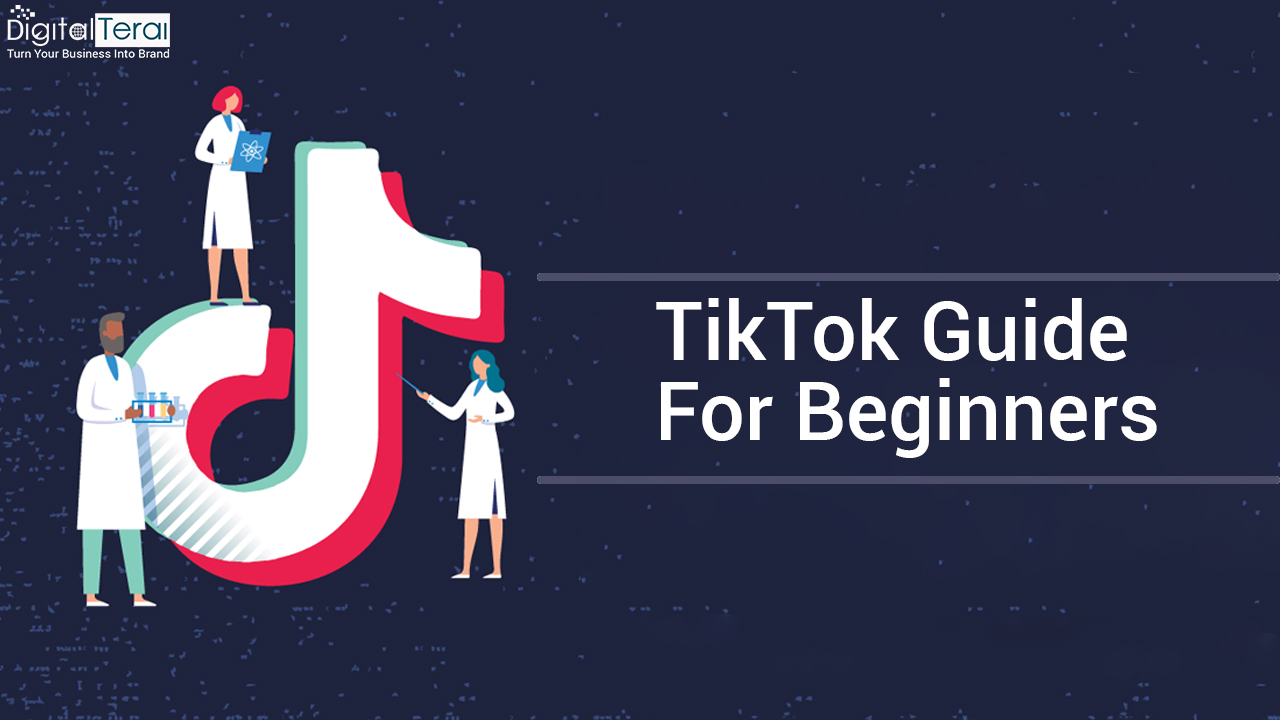 TikTok has proved to be a great platform for Influencer & social media marketing in the last few years. It originated from Musical.ly where people used to upload their lip-synched music videos for entertainment purposes but today TikTok has become a platform where highly skilled, talented, enthusiastic, and tech-savvy members upload powerful and unique content to showcase their talent and skills among a large set of audience. Because of which it has earned a certain kind of reputation among its users.
TikTok videos are usually 15 seconds long, but you can also create and share 1-minute Stories-like videos using a vertical aspect. The availability of a wide range of entertaining videos has become the core reason behind its growing popularity.
Here you will find comedians with stand-up routines, dancers with elegant moves, artists playing intriguing music, skateboarders performing challenging stunts, pranksters, fashion buffs, budding beauticians, and extremely creative people using the platform to demonstrate their talent. So, the question is how you can leverage the platform to market your product.

Here's what you can do get started:

Install the App and learn the basics
TikTok is filled with cool effects and amazing video editing features making it one of the most versatile and easy-to-use editors out there. Even if you have no ideas about video editing at all, you can still create fun and captivating videos on TikTok with its intuitive layout and user-friendly tools.
So, go ahead download the app and create your account. Familiarize yourself with its tools and features.
There are several video editing tools that you can use including:
You can choose either the front-facing camera or rear-facing camera to shoot your Tik Tok Video.
With a speed tool, you can slow down or speed up your recording as per your choice. You can use this effect on specific parts of your video to make it look interesting.
Beauty tools will help you hide your blemishes and give you an airbrushed look.
You can apply amazing filters in your video also by selecting the Filter button from the bottom menu.
This will help you to set an auto-record countdown when you feel like shooting hands-free videos. You can also set the video record length with the timer.
At the top of your screen, you will find the 'Add a Sound' button with which you can add sound effects on your video.
Select the Effects icon from the bottom left of your screen to explore the Effects tab. You will find hundreds of amazing effects to choose from with categories including Artistic, Beauty, Face, Animal, Trending, etc.
Once you become comfortable using the app, you can start shooting videos and funk it up with crazy filters, soundtracks, and awesome effects. Or record a video in-app and refine it with professional edits.
TikTok Video Tips
Know your Audience
Now that you know how the TikTok works, the next thing for you to do is conduct thorough research on your target audience. Is your target audience using this app? What kind of content they would prefer? How to induce interest among your audience towards your brand? That being said, your success on Tik Tok marketing solely depends on your content quality and target audience. It's all about how creative you can become in terms of creating a relevant content suiting your brand and audience preference.
Maintain your visual identity
Design a proper content theme that is authentic and relevant to your audience. Do lots of research on your audience; learn about the kind of topics, hashtags, trends, videos, they like. Beyond that, you will also have to understand the kind of problems they are facing and think about the solutions you can provide. And that's how you will get content ideas for your videos.
Be Consistent
Your TikTok account is just like your brand Instagram feed, where you create and maintain consistent style to make your users recognize you. Moreover, you will have to make your feed look amazing to leave an awesome first impression among the people. TikTok provides you with tons of editing features to let your creativity shine, so use them in your favor and make your brand stand out from the rest.
Promote relevant content
To create a proper fan base you should generate content that resonates with your target audience. Introduce your products in a fun way, integrating them into memes, challenges, hacks, jokes, DIY.s, etc. and grasp their attention. Don't be afraid to experiment with creative content ideas; it will provide you with deeper insight into content ideas that actually work among your potential customers.
You can try these four popular ways to make your brand noticed with Tik Tok marketing:
In-feed native ad:
Do you like Instagram stories in full-screen mode? Do you think it's a good way to advertise your product? If yes, then TikTok In-feed native ads are just the ones you are looking for. With these ads, you can add website links and CTA buttons which helps people to land on your site directly. These kinds of ads are skippable and can be traced by impressions, click-through rates, total views, engagement ratio, and video viewing time.
Hashtag Challenge ad:
With Hashtag Challenge ads, people will see a specific banner ad; when clicked the user will be taken to the page of instruction of the featuring challenge. The banner will be displayed on the discover page and can be measured with insights like banner views, number of clicks, engagement, number of user-generated content, etc. You can target specific consumers and receive a higher conversion ratio with these ads.
Brand takeover ads:
Brand takeover ads are the most generic form of TikTok ads where still images, short video clips, and GIFs are used to link with your brand's landing page or a Hashtag Challenge. These kinds of ads are category exclusives and are very effective because they are simple, user-friendly, and can be used as the best tool for branding your product or service.
Hashtag Challenges:
Hashtag Challenge is the most awesome way of spreading your authentic brand message with gathered audiences. Using the right content, you can promote your brand among the users and consumers and receive organic engagement. With the right influencer and interesting doable challenges, you can push your brand message among the people without sounding irrelevant.
User Participation:
You can encourage people to post their ideas and content themselves by tagging them with a trending topic and promote your brand. User-generated content helps people to familiarize people with your brand and understand the true persona of your potential customers. You can use tools and features to simplify the participation process and amplify your organic engagement.
Influencer Marketing
If you want to avoid the negative implications of ads. You can simply start your campaign by working with the right influencer and come up with creative strategies to induce interest among people towards your brand. It will work wonders if your product suits an influencer's audience.

In Conclusion
TikTok is an amazing social media platform filled with huge opportunities for marketers to generate ROI. So, give it a try; increase your organic reach, and promote your brand effectively.
About us: Digital Terai is the leading digital marketing agency in Nepal . Do let us now if you need any help regarding SEO and s ocial media marketing services.