How to do Competitors Analysis for Business
how to do competitors analysis

The world of digital marketing is full of competition. Today every other brand is providing similar services and products as you do. Establishing your brand at the top over these competitions is a difficult task and simply knowing what they offer is not enough.

Now, with the advancement in software and technology development, it has become easier for business owners and marketers to know more about the competition, helping them to stay a step ahead.

So, are you prepared to gain an edge over your competitors?
Here are the methods to do competitor analysis.

Before going towards the step of competitor analysis, it is necessary to have an idea of what actually competitor means, and why competition analysis is important.


Who is a Competitor?
In a business point of view, a competitor is simply those brand or company which provides similar products and services like your business and are performing well or even better than you.
What is Competitor Analysis and why is it important?
Competitor Analysis is the process of performing strategic research on your competitors to find out their strengths and weaknesses.

Competitors analysis is very important because it is a key aspect that helps you to understand your competitors' performance and create a strategy for your business. It's a tactic that helps you find out what your competitors are doing and determine what kind of threat they are providing to your financial well-being.
Competitor Analysis is a crucial part of the marketing plan with which you can easily grow your business and outrank your competitors. Also, it lets you keep updated about the marketing industry so that you know which strategies will help you gain maximum benefit.


Here are some of the benefits that competitors analysis provides:
Help in building marketing strategies based on how better competitors are doing
Analyze customers needs and requirements
Can take advantages of competitors weakness to stand in the market
Gives you a better understanding of the industry trends and help to plan your strategies accordingly
Helps to know the current business status to find the market opportunities and create a future plan
Now, let us consider that we are doing a competitor analysis on Online shopping in Nepal. Below is one of the ways to perform the competitor's analysis.


Find out the competitors
This is the first step in the competitor's analysis. Here, you need to simply identify your top competitors. Most of the marketers have no idea on how to identify their competitors. They might have that one company they're competing with, but outside of it they're lost and confused. So, if you are among them and you need a little help identifying your competitors; Google, Bing and other search engines are great resources. Just enter the type of service or product you are offering on Google and you will get the list of the website of your competitors. For example, say you are one of the online shopping stores in Nepal and you need to find out your competitors. For this you need to simply enter the keywords in the search engines like 'online shopping in Nepal', after that you will get a list of the websites that are your competitors.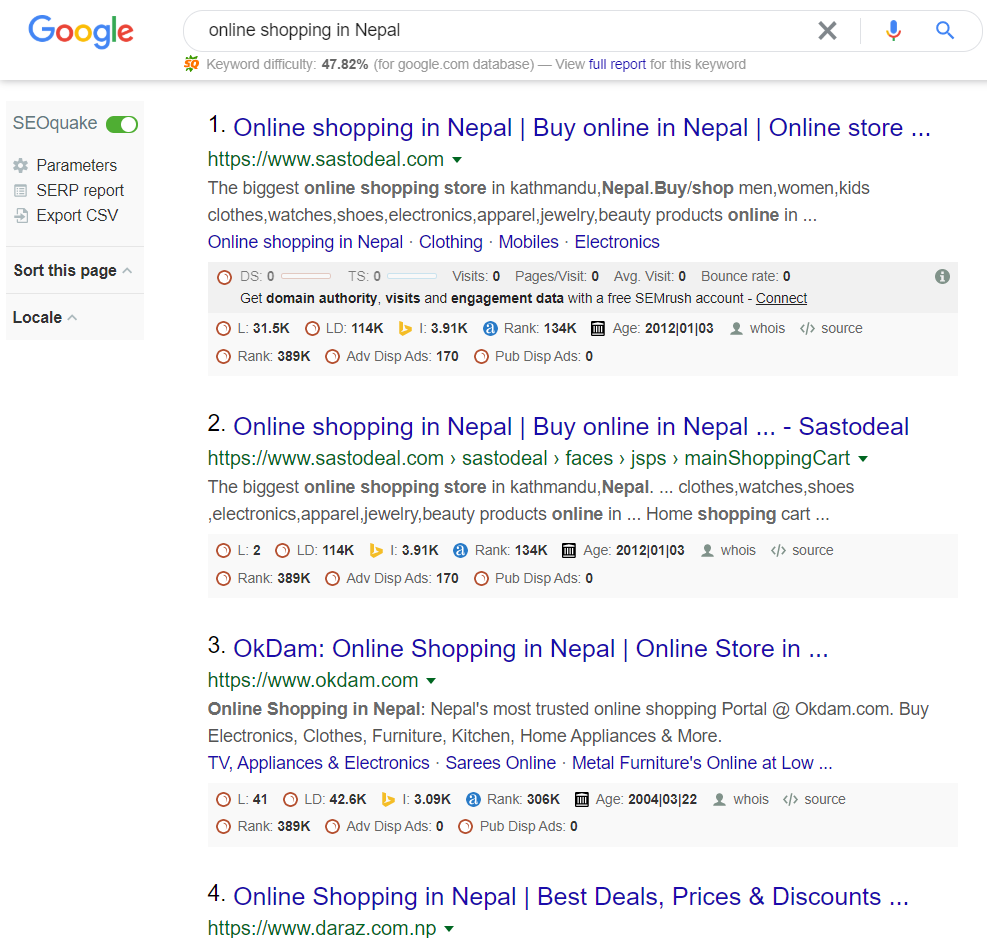 Another great way to find out who your competitors are by using online tools such as SEMrush, Ahrefs etc. These tools are great software to get a look into what other competitors are ranking for and to analyze the keywords.

Below, an example is given to find out the competitors via SEMrush.

Enter the URL of your website in the search field and click the search button. You will get the domain overview of your site and a list of your competitors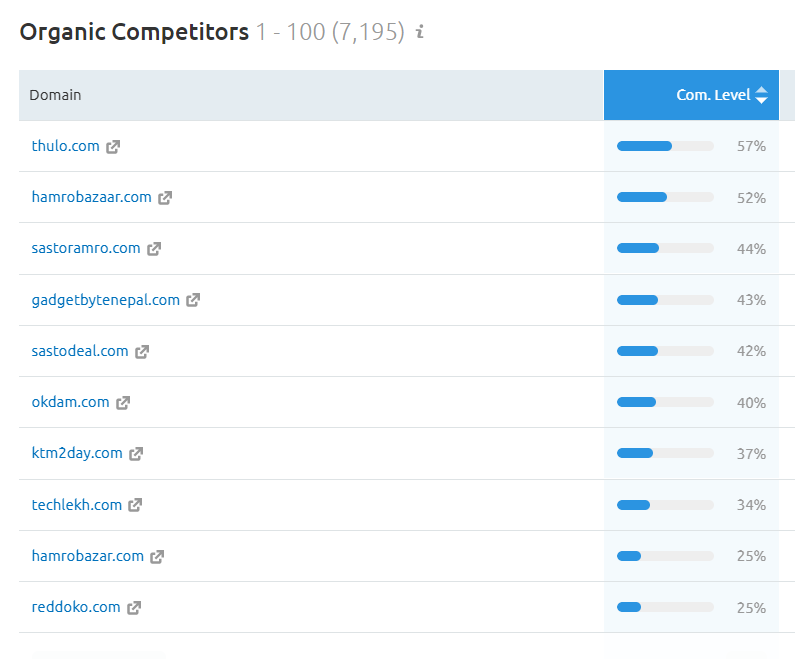 Analyze Competitors Website
Once you've identified your competitors, the next step is to do a competitive analysis of their website and dig a little deeper to gain a better understanding. While analyzing the competitor's website, try focusing on the following factors:


SEO and popularity metric: Domain Authority/Page Authority
Traffic statistics
Top organic keywords
Backlinks, anchor text
Top Referring Domain
Website's Top Content
Website's Top Pages, etc
Visit the competitors' site and observe the following areas


Check out the health score of your competitors
Find out from which web page has the most traffic coming
Analyze the organic keyword with low competition rate bringing the most traffic to the website
Have a look at their on-site SEO(how they using the meta set-up, alt tag, H-tag, etc to their site)
Find out how they are building backlinks to their site.
Once you analyze their website, you can also use the targeted keywords to bring more traffic and build effective backlinks where your competitors have managed to create.


Market/ Positioning Analysis
This is the phase which helps to analyze how the competitors are engaging the audience in the market. Here, we study how the competitors are targeting the audience and providing the services and products to them. When conducting the marketing and positioning analysis, create a set of questions to generate information on the current market situation.


How they are targeting the audience and what kind of services/products are they offering?
How is your competitor's product/services perceived on the market?
How they are improving customers' experience?
The answer to these questions helps in determining the area of improvements and this builds the foundation to establish a good brand position in the market.
Analyze competitor's social media activity
Another step in the competitive analysis is to determine how your competitors are using social media and how they are integrating it for marketing. Social media marketing takes a huge role in a brand's awareness and engaging the audience. Social media can be taken as the best platform to understand the tone of the competitors, their offerings and their audience. Also, it helps us to get clear information on


What type of post are they posting?
How consistent is their post?
Are people following them?
How much engagement does their page have?
Analyze properly and learn what they are doing, utilize it and take ideas from it to establish your presence in social media.
Review Analysis
This is the process where we check out reviews of the competitors. Reviews are the comments or descriptions given by the customers and users about the product/service. This helps us to directly analyze the strength and weaknesses of the brand straight from the customers. With review analysis, we can know the improvement areas, strengths, weaknesses, present situation, current status and get timely updates of the brand via customers and clients. So, review analysis not only helps in studying the brand or the business but also the customers which surely would be very beneficial for your business.


Find Improvement Areas
After performing the competitive analysis, you will now have a better idea and understanding of what your competitors are doing. Gather all the information and identify the areas that need improvement. Your areas for improvement could be meta-setups, content creation, search engine optimization, social media engagement, etc. With this, you can establish your company's presence with your potential customers and social media users.


Conclusion
The competition in the digital marketing field is never-ending. You may be at the top today but some others might overtake your position in the future. Being good at competitor analysis means knowing how top brands and other business companies are doing in this digital world. Knowing this will automatically help you to rank your business at the top or in the higher level of competition.

Let us know your thoughts about the competitor's analysis in the comment section.

Digital Terai is the leading digital marketing agency in Nepal. Do let us now if you need any help regarding SEO in Nepal.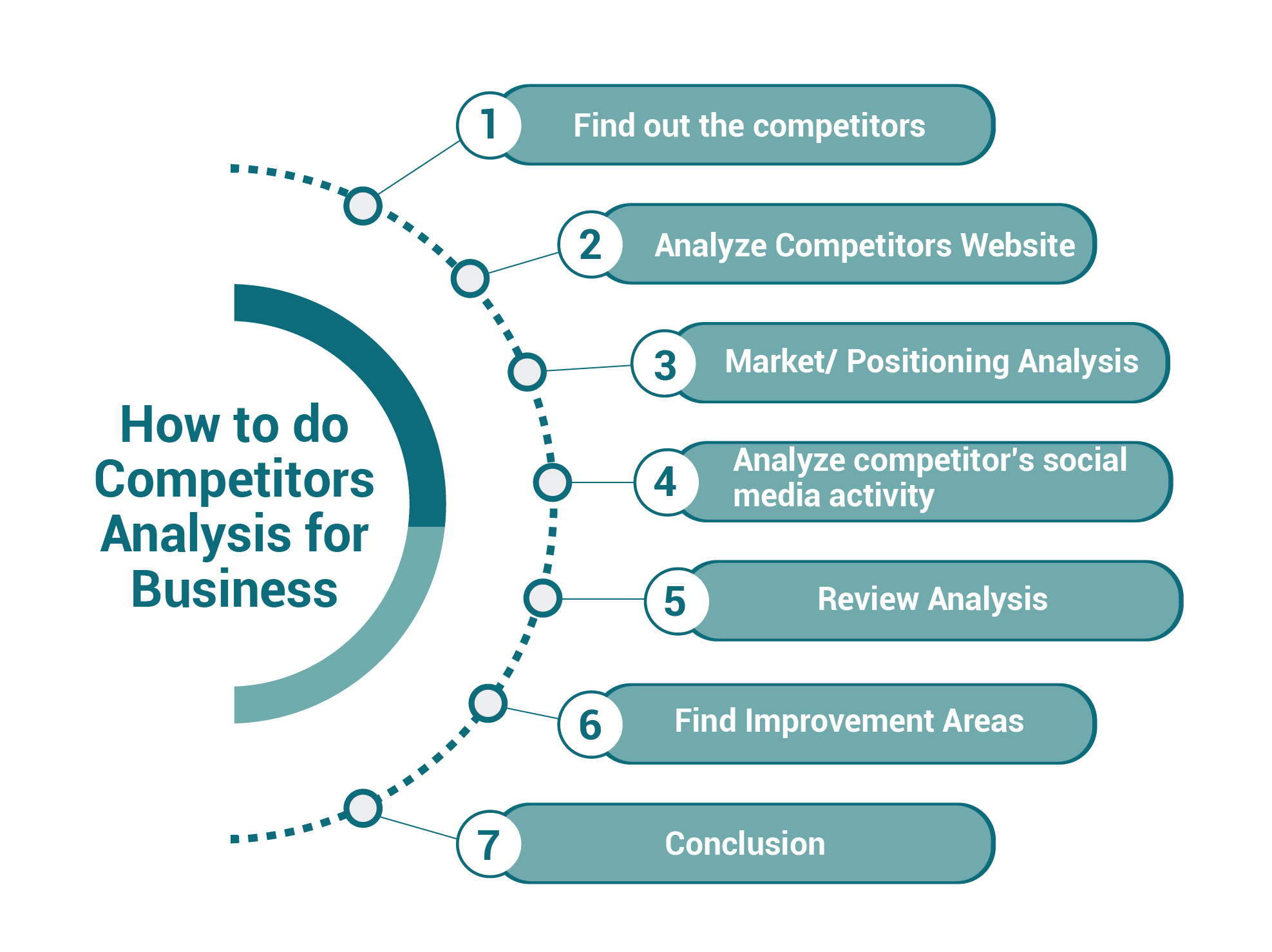 Competitors Analysis Guide
Step to conduct Competitors Analysis