9 Steps digital marketing strategy process for businesses
by DigitalTerai | Nov 07, 2019 | Blog |
Digital marketing strategy for each business is different from other. The strategies that work for one industry are not necessary to work for others. Every business is unique in its own way, along with its brand identity and strategies. This is what makes your business thrive in this competitive market.

Competition is actually a very positive thing as it gives you an idea about market demand and business validity. But at the same time, if you cannot differentiate your brand among your competitors, you will be lost in the crowd.

This is the only reason why LYFT thrives in the US market despite its direct competition with the ride-sharing giant UBER. And this is how SastoDeal thrives in the Nepali market despite its huge competition with Daraz.

There are a lot of such examples where a newly established company has proven to be a threat for big giants with proper market segmentation & digital strategies.

In this article, we will walk you through these proven digital marketing process to stand your business out of the crowd.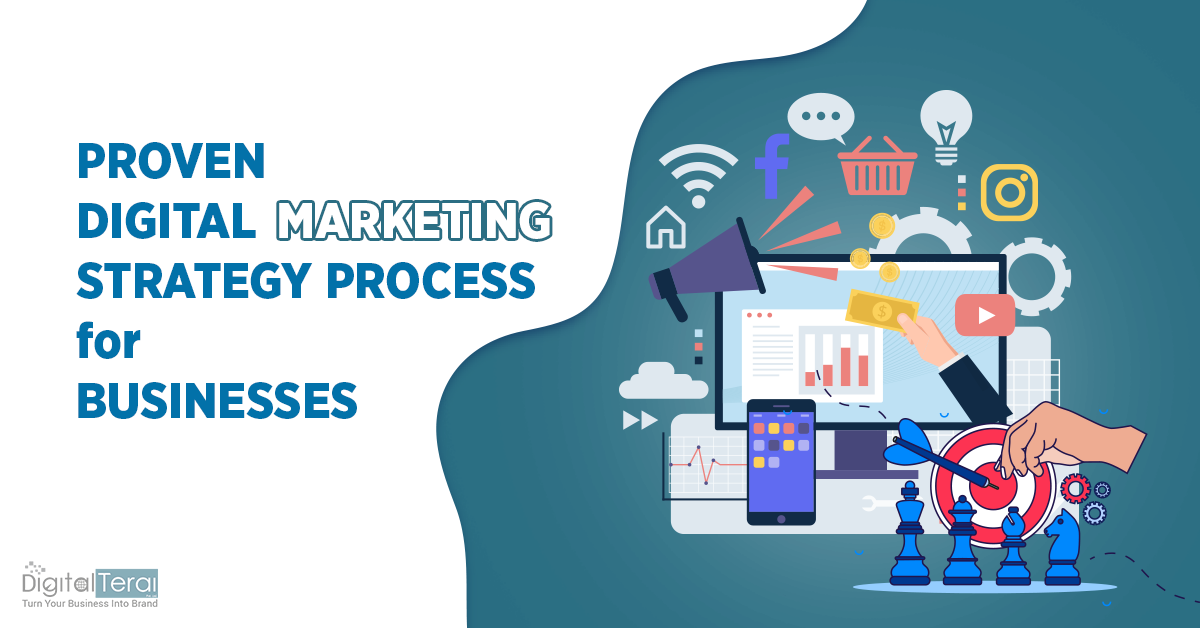 1) Understand your Business
Understanding the business should always be your first priority as it works as the foundation for your branding & marketing strategy. Without understanding your business inside out, all your efforts in planning the strong brand strategy will just fall through.

- What is your business about?
- How is it different from others?
- How can it create a value for your audience?
Your answer to these questions is what builds the foundation around what your brand really represents. This will help you stand out among other businesses similar to yours.
2) Identify your Audience
For any business, identifying the target audience is an important step. Who is your audience, and what are their pain points?

Once you answer these questions, you'll find the consumer base of your targeted audiences. Segment those consumer base into groups on the basis of gender, age, lifestyle preferences, economic status, and others.

This is also the point where most companies make a mistake. Most of the companies focus on their product, they create their advertisements, particularly for no one.

3) Understand the market
Without understanding the competitors and customers, the growth of the business is uncertain. Understanding the market through research can help you know about the changing marketing requirements, helping you to stay ahead of the competition.

Understand the marketing trends, and perform an analysis of the marketing demands of the products or services. Also, having knowledge about marketing trends help you know about the business opportunities on the basis of customer demands.

4) Build the buyer persona
Creating a detailed buyer persona is one of the best digital marketing strategies. This buyer persona represents your ideal customers, and it can be created by thorough research, data collection, and surveys among the target audiences.

Buyer personas tell you about your ideal customer and their behaviour. This will help you target the right people and increase sales Create the buyer persona on the basis of demographics like age, gender, income, location, preferences, etc.

For example:
Say you are opening a cafe in the Kathmandu area. Let's map out our buyer persona for this business:
Persona Name: Rekes Shakya
Demographics: Age 20. Studying in high school. Lives in Kathmandu. Dependent on parent.
Pain Points:Likes coffee, but doesn't like the high pricing of the coffee shop
Interest:Drinking coffee alone or with friends, Hang out with friends and enjoy new dishes.
5) Identify digital marketing channels
Identifying the right digital marketing channel is a veru crucial step for your business. These marketing channels have different kinds of audiences, and their content also varies from one another.

On the basis of your audience preference and behaviors, you need to recognize the appropriate digital channel that has a high chance of returning your investments.

For example, if your target audience is of young age then using Instagram as your marketing would be the best option.

There are various digital marketing channels that you can use according to your business requirements. From a blog post to paid advertising, Digital marketing provides you a wide range of channels to target your prospect audience. Some of those include:

- Search Engine Optimization
- Content Marketing
- Social Media Marketing
- Paid Advertising
- Email Marketing
- Video Marketing

6) Evaluate the existing channels
After you identify the digital marketing channels, you need to determine whether you exist in those channels or not.

Analyze the digital channels that you are already using including social media accounts, websites, word-of-mouth, advertising and so on. Categorize those channels into three parts: owned media, earned media and paid media.

Owned media: Owned media refers to those digital assets that you own and have the right to control. Some of the examples like a website, blog content, social media channels, etc are your owned media properties. Higher the number of owned media, higher will be your chance to extend your brand presence in the digital market.

Earned media:Earned media are those channels that are voluntarily given by others. You can earn media when customers or the public share your content, talk or discuss your brand through word-of-mouth. Some examples of earned media are guest posting, shares on social media, tweets about your business, business mentions in other websites, etc.

Paid media:Paid media refers to those channels which you pay for your brand marketing to catch the attention of your target audience. Some examples of paid media is Google Adwords, native advertising, sponsored posts, etc.

7) Identify your goals
Every digital marketer knows how important it is to identify the goals. Without having the goal for the business, your strategy doesn't work, so defining goals is very essential. Your goal gives you the long-term vision with which you can measure your progress.

While setting goals, always keep in mind the SMART method. This method will help you to measure the success of your digital marketing initiatives. This will also determine whether those initiatives are inclined towards a common goal or not.

8) Planning and execution
Making a well-constructed plan is always necessary for a business to success. Your marketing plan is the path to your goal and how you execute it affects your decision throughout your business development phase.

Your ability to execute the plan is your real key to success in marketing. Your effective digital marketing plan must include strategies like SEO, Social media marketing, email marketing, online collaboration, etc.

9) Analyze, Tracking and Optimization
Only a few customers buy the product/services at first look. So, the main questions are:

- How customers are involving in your business?
- what are they looking for?
- and what can you do further to engage them?

As a business owner, these are always essential points that need to be considered. Once you have executed the plan, you need to measure those activities to ensure whether they are working and worth to continue.

Analyzing & tracking results are a big part of your digital marketing strategy. Knowing what's working and what's not will help you make the strategies to those that need improvement.

Conclusion :
There is no blueprint for a successful digital marketing process. Each business is different from others and so is the marketing process. However, these 9 basic digital marketing strategy process will help you get a better result and make your business stand out in the competition.

If you need any help regarding digital marketing strategy for your business, feel free to contact the leading digital marketing agency in Nepal , Digital terai.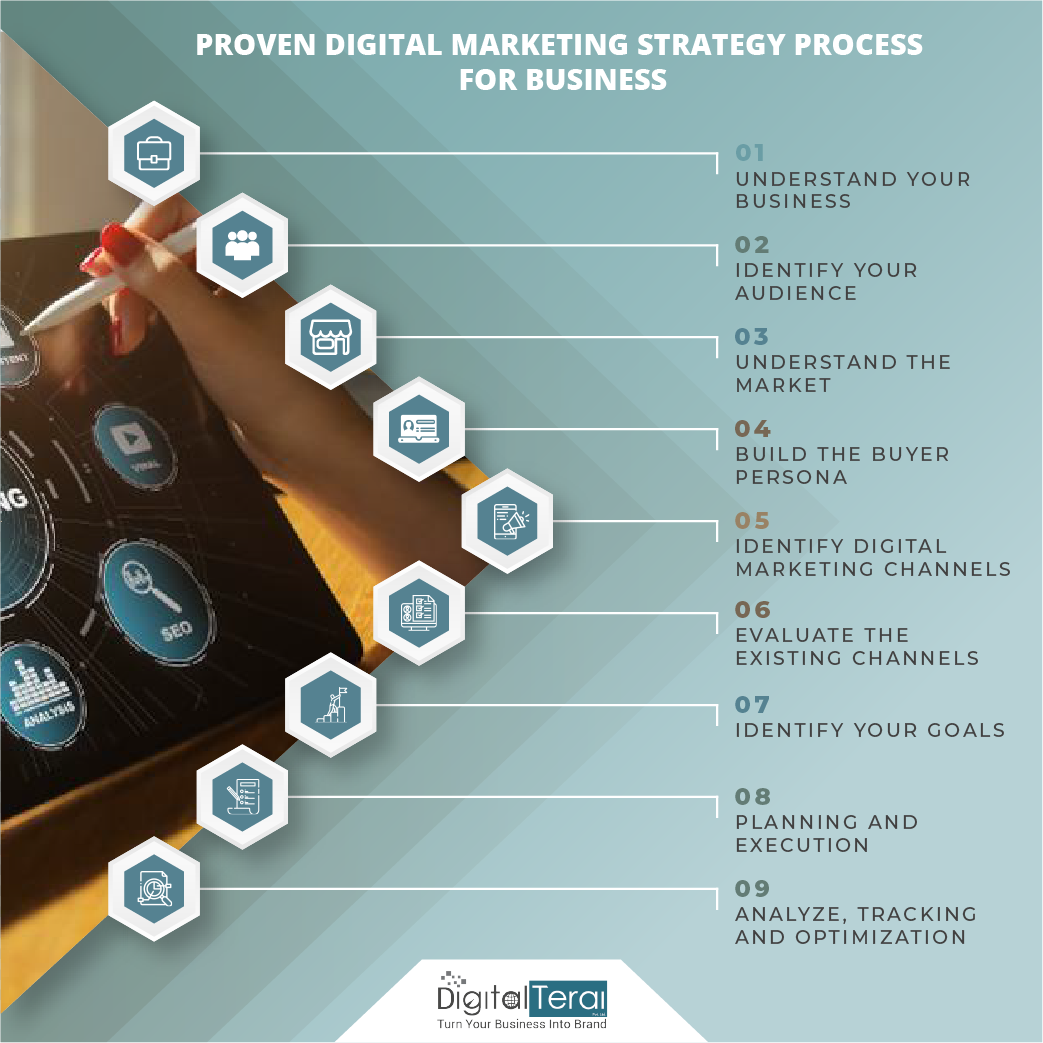 Digital Marketing Strategies
Digital Marketing process