All About Clubhouse App
by DigitalTerai | June 30, 2021 | Blog |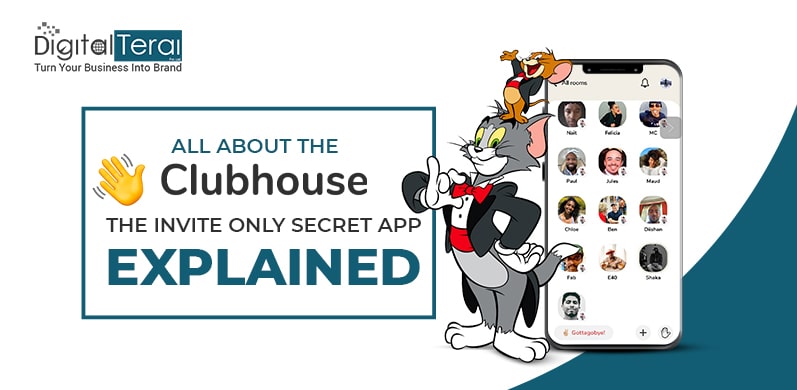 The modern digital world is thriving on FOMO. So, keeping up with the trends becomes necessary if you don't want to feel left out of the conversations. In comes, Clubhouse, the talk of the town which everyone seems to be fond of in recent times.
But what is this clubhouse app? Why is it so popular?
Chances are you might have stumbled upon someone who just won't stop talking about this invite-only app trend in Nepal or memes and jokes that don't make sense at all but everyone seems to have a good laugh. HUH !! How do people manage time to know about this stuff? How is that only you seem to miss out?
Don't worry as this guide explains all about the clubhouse app. By the end of this guide, you might actually end up using this platform and inviting others to get the most out of this invite-only secret app.
What is a Clubhouse App?
The clubhouse is an invite-only audio app that lets users listen to or engage in conversation through the accessibility of chat rooms. Sounds much similar to a zoom call, but minus the anxiety of your video being on display and the embarrassment that comes with it. Yeah, you definitely don't want to be reminded of that, do you?
Holding closer resemblance to radio, part podcasts. part conference call or part Houseparty, this audio-based social media platform allows participants to be involved in conversations, discussions, and interviews between various people on a wide variety of topics.
Whether you're in a mood to experience a splurge of motivation with conversations similar to TEDx talks or podcasts, or witness heated arguments or cringe factors of call-in-radio shows, this platform can make your day with a spontaneous and enlightening conversation that resonates with you or can leave you amazed with cross-talks.
Holding closer resemblance to radio, part podcasts. part conference call or part Houseparty, this audio-based social media platform allows participants to be involved in conversations, discussions, and interviews between various people on a wide variety of topics.
Clubhouse App is Invite-Only App
One of the reasons for the hype of the app is its exclusivity. To operate this app on your mobile, you need an invitation from an existing user. The clubhouse app made its way through its accessibility to iPhone users.
The iOS version of the clubhouse app was launched in March 2020 and it slowly started to grab the pace due to lockdown, providing it a perfect context to flourish with isolation and restrictions imposed.
This app replicates the real-life context of parties and ceremonies filled with social interaction with the only exception of not having to be present i.e virtual and there is no need for photos or videos in this app. With the imposition of lockdown, the Clubhouse app trend in Nepal is becoming increasingly popular, and more people seem keen on how to use the clubhouse app.
Who Owns the Clubhouse app
This audio-based app was developed by Silicon Valley entrepreneur Paul Davinson and ex-Google employee Rohan Seth. It started as a Clubhouse app for iOS in March 2020. The early days of Clubhouse were characterized by a tiny community of elite people such as celebrities, influencers, and tech moguls.
Who Uses the Clubhouse App
The clubhouse is a pool of celebrities which is the reason for its massive popularity. The astounding involvement of celebrities made its unique feature of exclusivity gain a new height. Power celebrities like Oprah Winfrey, Drake, Chris Rock, designer Virgil Abloh, comedian Tiffany Haddish, Kevin Hart, Ashton Kutcher, and many more have also significantly contributed to the crazy appeal of this platform.
And topping it off, the larger involvement of CEOs of Silicon Valley and venture capital firms made it establish itself as a status symbol for elite people. In the beginning days, Clubhouse had more of a networking space appeal, carrying the essence of cocktail parties for rich people.
The real-life Tony Stark aka Elon Musk sparked a huge craze over the internet with his appearance on the platform with the chief of the Robinhood market Vladimir Tenev. His appearance gave the app the extra boost required to escalate the status of the app
Other Tech movers and shakers such as Bill Gates and Mark Zuckerberg have also been in this app, thereby increasing the buzz of this app.
The Clubhouse app intends to be the platform for everyone to talk, tell their stories, develop ideas and deepen friendships. This seems to be evident in the app due to the involvement of a large number of creators from the black community and activists involved in different systems.
Social activist and visual artist Drue Kataoka, activist and author Shaka Shengor and CNN host Van Jones are a few names that have been using this platform to talk about some severe issues of police and criminal justice reform.
How to download Clubhouse App
This invite-only app initially hit the scene with only intended for iOS users. The major hype around this app was due to its exclusivity for iPhone users during the Covid-19 Pandemic. The clubhouse app for iOs began in March and slowly started gathering attention due to its relevance during the time.
You can download the Clubhouse app for iOs in the Apple app store. The Clubhouse app for android, however, took some time to be widely available with the US-only android rollout in early May. Similar to iOS, the drop-in audio chat app can be downloaded on the Google play store.
The Clubhouse app for Android was made available across the world in May of this year. If you're an Android user and want to download the Clubhouse app, you must have Android 8.0 or a later version installed.
It comes after the growing number of platforms with a similar idea trying to take advantage of their absence in the earlier days.
How to get an invite on the Clubhouse App
For any individuals wondering how to get an invite on the Clubhouse app, the invitation has to be sent from the existing users. You can download the Clubhouse app and then, your name would be put on the waiting list.
With compatibility initially intended for IOS users, this platform has recently been made available for android. You have to submit your contact number and your name while registering for this drop-in audio chat app. The person inviting you will only need your contact number.
The existing users are required to send the invite from the app in the form of a link that allows a new user to get onboard. You will get a link with SMS text, informing you to visit joinclubhouse.com/app and sign in with the same phone number.
Existing clubhouse users only get two invites initially and thus, users won't have the liberty to send as many invites as possible. After you get access, you can select from a range of interest areas such as tech, business, books, faith, and many more.
How to use Clubhouse App
So, You got an invite to the Clubhouse app. But what now?
Well, how to use the Clubhouse app and be the cool kid across the block. It's really not rocket science.
After you get access to this app, you get displayed with a list of rooms on the homepage. Similar to feed on Facebook, there is a hallway where you can find different happenings conversation rooms. You will also see search, message inbox, calendar, and notification icons in the upper navigation.
Upon clicking on the search or explore tab, you will be recommended with a feed of suggested rooms, clubs, or people to follow. The clubhouse app trend in Nepal is gaining new heights due to the presence of a large range of rooms on different issues. This has further increased after the accessibility of the clubhouse app for android.
If you want to join a room but cannot, then you can drop into one later by tapping into a calendar icon to see or create the scheduled rooms. Clubhouse rooms are basically like getting into a webinar or zoom meeting with an absence of videos and restricted access for speaking to an audience.
There is a large space for a wide variety of conversations in rooms ranging from casual one-on-one between friends to group discussions, live music performances, and formal podcast-like interviews. The groups are usually named after the topic being discussed.
After getting access to the room, you'll see moderators and speakers listed on the stage at the top of the screen while others involved are displayed below. You can raise your hand to speak and the room moderator can grant the access as per their decision.
Benefits of Clubhouse App
This app only seems to get bigger and better. So, what makes it stand out? Among a pool of large social media apps, the benefits of the Clubhouse app seems to hold more power.
Unique
The drop in audio chat app seems to drift away from the typical explanation of a social media app. Unlike other social media platforms, this app doesn't revolve around the basic concept of sharing memes, posting pictures, videos, or texts, and following celebrities and their activities.
Rather it is a platform for conversations, whether it is talking, discussions, or just simply listening. This change in the social networking approach has made it a convenient app for everyone across the world.
Further, the Clubhouse app is invite-only which gives users a sense of exclusivity. There is a requirement for any users to get invites from existing users. With similarity to podcasts and the liberty to join in the conversations, this app has been able to make its own mark.
Thriving on FOMO
The content delivered across this platform is ephemeral, meaning the audio conversations disappear upon the completion of conversations. No recording or evidence of audio chats is available to the users. This gives it more advantage.
There occurs anticipation on people as to what the conversation is about and develops "FOMO" (Fear of Missing Out) on people. Since individuals can only consume content in real-time, this further gets users hooked on it.
Inclusive
Inclusivity is among other major benefits of the Clubhouse app. The invite-only app has really been a hub for many people to express their opinion. The app has become a platform for many people for the democratization of power through their voice.
From socially elite people, celebrities, tech industry titans, motivational speakers to even common people, everyone wants to be heard with this app. This is quite evident with an icon of the app which aims to reflect the spotlight on various change-makers with their pictures on it and embraces diversity and representation at its best.
Cons of Clubhouse App
Alright, so the benefits of the Clubhouse app seem to get its limelight, right? So, maybe you should hop on the trend. Just like any other social media platform, this app has its fair share of downsides.
Breeding ground for Bullying and Harassment
This app has gathered major criticism for not being a safe space for women and minorities with evident cases of harassment. As anyone can participate in this oratory-based app, people can often go overboard and may use degrading languages unless stopped by moderators
This has already brought the drop in audio chat controversy in the international arena and is quite evidenced even in Nepal's Clubhouse community. Across international space, the app has been known for being a platform for cyberbullying and promoting racism.
Privacy policy
Just like other forms of social media apps, the privacy policy, and guidelines seem to be invasive and exploit the privacy of the general public. The users in the app aren't allowed to record the conversation. However, the app records all the conversations.
The app's justification for this feature is to use the recordings on cases of complaint. Either way, this can be a bit disappointing for the users as it interferes with their privacy. This can make all the users trying to get an invite on the clubhouse app reconsider their decisions.
Clubhouse App Trend in Nepal
The Clubhouse app has indeed become a hot topic in Nepal. More and more people seem to be interested in how to use the Clubhouse app. After all, Nepali people have a reputation for keeping up with the trend.
The second wave of the Covid pandemic enabled the Clubhouse app trend in Nepal to flourish. With lockdown the majority of people have some spare time and this app seems to be thriving on this very issue.
On top of that, these recent times have made people realize the need for a platform to put forward their voices and be heard. With political scenarios and chaos, people feel rage and want to pour it off somehow. The recent availability of the Clubhouse app for android made this app extremely popular among the Nepali masses.
The clubhouse space in Nepal seems to cover a large range of topics from social issues, feminists talks, businesses, and many more. Word of mouth has been a prominent factor to keep the trend gaining new momentum and increase the downloads of the Clubhouse app.
Future of Clubhouse App
So far, the Clubhouse app only seems to get bigger. While more people learn how to get an invite on the Clubhouse app, the app has to encounter some major competition from its rivals. Twitter has launched Spaces which allows people with more than 600 followers to host similar audio-based chat rooms. Telegram has a similar voice chat feature with the integration of an unlimited number of people.
It still has a long way to go since the moderation policy seems to be catching the attention of people and affecting its reputation. The app further plans on monetizing the content across the app. The platform has been launching limited tests which allow users to send money or tip to creators on the app.
This can be a great opportunity for all the content creators and the users will be required to pay a charging fee to its processing partner Stripe.
The app may lose its spark as life returns to normal with ease in Covid-restrictions. The timing of the release of the app has helped it gain status. So, whether the app would be there, in the long run, is definitely the topic of curiosity.
Conclusion
The Clubhouse app is a breath of fresh air in the space of social media and people seem to enjoy the app and its approach. The future of the Clubhouse app seems to be midway with a large number of competitors and issues to be worked on. That being said, there is no point denying that it is a great space for individuals eager to express their opinion and meet like-minded people.
So, if you're someone who is looking forward to passing your time or need a platform to put forward your voice, then this app can serve the purpose. This app can also be a friendly reminder that no matter what you're going through or thinking of, you're not all alone.